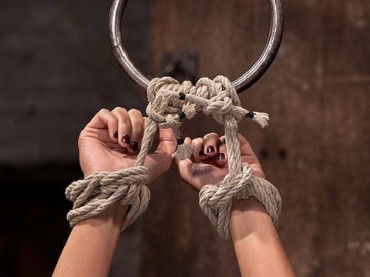 Students can experience what it feels like to be sexually flogged and electrocuted during an upcoming Sex Week activity at the University of Chicago.
The workshop, dubbed "Taste of Kink" and scheduled for Feb. 15, will "explore … the exchanges and sensations that can be generated by floggers, rope, electricity and more," the university's Sex Week agenda states.
It's one event among nearly 40 scheduled to take place at the private university in the coming weeks. Several include teaching students how to perform better oral sex and tie their partners up during sex. Others explore the adult film industry, instruct students in "pagan sex magic," and teach them how to talk dirty.
The "Taste of Kink" activity, set to take place at the University of Chicago's Logan Center For The Arts, asks students on the Sex Week agenda: "Intrigued but nervous about bringing anything into the bedroom?"
"Curious about props and toys that crop up in kinky relationships?" it continues. "Come explore, at your own pace and in a laid back space, the exchanges and sensations that can be generated by floggers, rope, electricity and more."
University of Chicago administrators did not respond Tuesday to a request for comment by The College Fix.
Organizers of the University of Chicago's upcoming Sex Week, which launches Thursday and runs through Feb. 16, state on the event's website that "our goal is to provide a space, perhaps an excuse, to start a conversation about everything related to sex and sexuality, and hope that this openness about any other everyday topic continues far beyond the week."
"We like this to be an exploration and discussion of a usually taboo subject, thinking about the terms and images we use, how we express ourselves, and interactions with others, as well as our own personal sexual preferences and choices," Sex Week organizer Stephanie Grach told XBiz newswire.
On Friday night, the festivities kick off in earnest in the school's Ida Noyes Hall with a celebratory "Lascivious Ball," promoted with the tagline: "No shirt, no shoes, no problem!"
On Saturday, Feb. 8, slated events include a talk from porn star Jessica Drake called "From Porn to Sex Ed." Drake is expected to talk about how she got into the adult film industry and how it opened her eyes to the need for "modern sexual education," XBiz Newswire reports.
Next up on Saturday's itinerary is a "rope workshop."
"Curious about bondage, but didn't know how to try on your own?" the Sex Week agenda asks. "We'll show the basics of rope tying, and a bit beyond the basics!"
Rounding out the day's festivities is a talk titled "Sex Outside The Lines" by blogger "Cliff Pervocracy."
According to Pervocracy's website: "I write about my experiences as an active member of the BDSM community, a partner in a polyamorous relationship, and an all-around completely horny slut."
Sunday's lineup includes workshops titled "Intro To Tantra," "Being An Ally: Sex Workers" and "Trans Conversation."
On Monday, students can attend the "Talking Dirty, Etc." event, described on the agenda as a "how-to on dirty talking, roleplay and fantasy." That event is immediately followed by an activity called "The Art of Going Down: Great Oral Sex," during which students are expected to learn "techniques for better oral sex."
For Valentine's Day, the agenda includes an event called "Temple of Cum and Other Queer Blasphemies," a presentation slated to "explore mashups of spirituality and sexuality, including Pagan sex magic … and the Man2Man Alliance. "
Sex Week concludes Feb. 16 with activities such as "Hey Beautiful! How To Be Truly Turned On!" during which an "intimacy coach" will teach students how to "feel more sensual and alive in bed and out," the Sex Week website states.
Another event set for the final day is "Selling Sex: The Ins and Outs of the Porn Industry." A company official from "Pleasure Chest" will lead the workshop.
Several documentaries are also scheduled to be screened during the observance, as well as a talk by "The End of Sex" author Donna Freitas on how to regain intimacy and meaning in the college hook-up scene, and workshops on communication and dating tips for all sexual preferences.
IMAGE: Micio/Flickr
Like The College Fix on Facebook / Follow us on Twitter