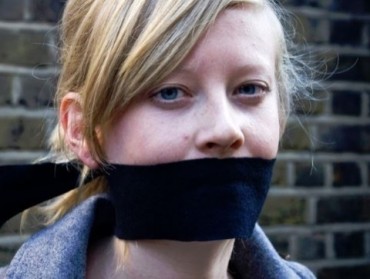 The student government at the University of Nebraska-Lincoln has passed a resolution that bans offensive speech.
"Certain derogatory terms diminish the broadly inclusive and welcoming quality of our campus," states the resolution, approved by the student government Nov. 13. "We pledge to remove derogatory terms from our vocabulary (that may or may not be purposely directed as offensive) in regard to a person's gender, age, disability, genetic information, race, color, religion, pregnancy status, marital status, veteran's status, national or ethnic origin, gender identity or expression, place of residence, political affiliation, or sexual orientation."
The resolution does not spell out specific words that could be deemed derogatory, defined by Merriam-Webster as expressing a low opinion or showing a lack of respect for something or someone.
Student President Eric Reznicek, in an email to The College Fix, said the resolution's passage does not equate to a "ban of speech."
"There was no ban of speech, rather, an encouragement to use more inclusive language and to encourage not using potentially offensive vocabulary," Reznicek stated.
Prior to the vote, one student senator suggested derogatory terms disallowed under the legislation would include phrases such as "that's gay" or "that's retarded," reported The Daily Nebraskan student newspaper.
The resolution was approved in a controversial split decision – 16 in favor, 6 opposed, and 4 who abstained – with some student senators suggesting the measure was overkill, that the university's anti-discrimination policies should suffice, the newspaper reported.
What's more, the resolution almost got one student senator impeached because, before the vote, he cited a Chris Rock comedy routine that included the n-word, and also made other remarks deemed offensive by many student senators.
That student, Cameron Murphy, has stated he made the comments to illustrate the resolution's absurdity and take a stand against infringements on free speech.
In a narrow vote Monday night, a committee of students and administrators agreed Murphy could retain his student senator seat despite his Nov. 13 comments, The Daily Nebraskan reported Tuesday.
In a Q&A interview also published Tuesday in The Daily Nebraskan, Murphy stood by his controversial speech.
"You should be able to say whatever you want, whether it be popular or unpopular," Murphy said. "And you shouldn't be punished, especially at the university, this is supposed to be the place of ideas, where people formulate their opinions and their beliefs and formulate new ideas. … If you're hurt by someone saying a word, I would say grow up."
Asked to weigh in on the resolution, Robert Shibley, senior vice president of the Foundation for Individual Rights in Education, a group that defends individual rights at universities, said there is nothing wrong with students encouraging each other to act politely, but removing derogatory terms is "unwise" because "people frequently and reasonably disagree on what is derogatory."
Shibley, in an email to The College Fix, further explained why speech that is considered "derogatory" could also be considered valuable: "A vast amount of speech — everything from repeating a Chris Rock monologue, to criticisms of female genital mutilation in Islamic countries, to criticisms of white supremacist political groups — would violate this student government pledge."
"That's why the right answer to speech and arguments you dislike is working to convince those with whom you disagree rather than working to silence them."
Fix contributor Andrew Desiderio is a student at The George Washington University.
Like The College Fix on Facebook / Follow us on Twitter