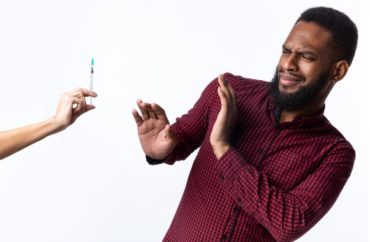 A 22-year old Rutgers student says he is being prevented from attending a virtual class because he is unvaccinated, according to a report at NJ.com.
"I'm not in an at-risk age group. I'm healthy and I work out. I don't find COVID to be scary," Logan Hollar told the news site. "If someone wants to be vaccinated, that's fine with me, but I don't think they should be pushed."
Hollar, a senior in psychology, lives 70 miles away from the campus where he was taking classes, and says while the school issued a vaccine mandate for students in person, a vaccine was not required for students in online-only programs.
"When they put out the guidance in March, I was reading through all the verbiage, which was if you plan to return to campus, you need to be vaccinated," Hollar said. "I figured I wouldn't be part of that because all my classes were remote."
A Rutgers spokesperson clarified that according to the school's policy, just because all of a student's classes are being taken remotely, that is not the same as being in an "online-only" program.
In August, Hollar completed a school survey in which he said he admitted he was not vaccinated, because he believed vaccination status did not apply to him.
"After submitting the survey, I got no pop-up indication that I still needed the vaccine — like I had seen in the past — and since I was online and the survey said I was all set, I assumed the emails in my inbox pertaining to (the vaccine) must apply to in-person students," Hollar told the site.
"This turned out not to be the case," he said.
Later in August, Hollar claims he was locked out of his email and other student accounts. A school representative then told them he needed to be vaccinated to attend classes, even if they were online. Later, he learned that even if he was granted an exemption, he wouldn't be able to attend classes for four weeks, well after the semester had begun.
"I believe in science, I believe in vaccines, but I am highly confident that COVID-19 and variants do not travel through computer monitors by taking online classes," Keith Williams, Hollar's step-father, told NJ.com.
"He chose to remove himself from an on-campus experience so he would not need to be vaccinated," Williams said. "Now to be removed and shut down from his Rutgers email and online classes during the start of his senior year seems a bit crazy."
The Rutgers spokesperson said 98.8 percent of Rutgers students are in compliance with the school's mandate.
Read the full story here.
MORE: After implementing a vaccine mandate, Amherst requires double-masking and limits student travel
IMAGE: Prostock-studio/Shutterstock.com
Like The College Fix on Facebook / Follow us on Twitter