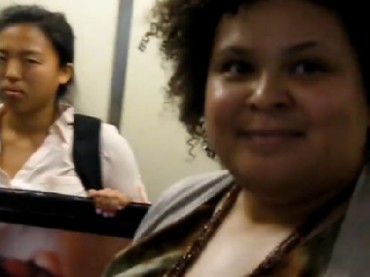 A UC Santa Barbara feminist studies professor pleaded no contest Thursday to all three criminal misdemeanor charges filed against her stemming from an altercation on campus in March in which she accosted a young pro-life activist and stole and destroyed her sign.
Associate Professor Mireille Miller-Young will be sentenced next month for the charges of grand theft person, battery and vandalism, the Santa Barbara District Attorney's Office announced Thursday.
On March 4, Miller-Young – whose academic focus is on black cultural studies, pornography and sex work – came across a group of prolife students with graphic anti-abortion signs and essentially became frenzied by the exhibit, leading a small mob of students to chant "tear down the sign" before she and two other students stormed off with one of the displays.
The scholar then engaged in an altercation with a teenage prolife protestor who had followed the educator to retrieve it. Much of the scuffle was caught on camera, and it left visible scratches on the young girl's arms.
Watch the video:

Pleading "no contest" means that Miller-Young does not contest the charges, which will go on her criminal record as a conviction for three misdemeanors. The legal significance is that it cannot be used – as could a guilty plea or a guilty verdict – as evidence in a subsequent civil lawsuit based on the conduct.
"Today's plea brings us one step closer to seeing justice done in this case," Life Legal Defense Foundation Legal Director Katie Short, the mother of Miller-Young's victims, said in a statement. "Pro-life advocates should not be subjected to intimidation and violence for lawfully exercising their right to free speech, and we are happy to see that Ms. Miller-Young is being held accountable for her actions."
After the incident, Miller-Young, who is pregnant, explained to authorities that the graphic images of aborted fetuses negatively "triggered" her to act in the way she did, adding she was a "conscientious objector." She told police she felt she set a good example for her students, and that she had a "moral" right to act in the way she did.
Short's father told Fox News in March that he hopes the prosecution of Miller-Young will serve as a lesson for those who seek to halt free speech on campus. "She was free to engage in a rational dialogue with them," Short said. "Instead, she chose to bully them, steal and destroy their property, and hit and scratch my daughter."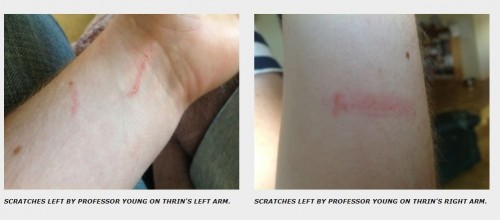 Life Legal Defense Fund reported Thursday that, to date, the university has made no public statement about the assault nor issued an apology for the criminal actions of its employee and students.
"Two weeks after the incident, Vice-Chancellor Michael Young sent a letter to University of California at Santa Barbara students and faculty decrying the presence of 'outsiders coming into our midst to provoke us, to taunt us and attempt to turn us against one another,'" fund officials stated. "In what appeared to be a denouncement of the teens advocating a pro-life worldview, he urged students to notify the Office of Student Life if they 'feel harassed' or believe that 'outsiders' are violating the law."
"It is not known whether the university has imposed any disciplinary sanctions on Miller-Young, who remains listed in the faculty directory."
RELATED:
Read one College Fix contributor's eye-witness account of the March 4 incident.
UCSB Student: Campus Prolife Protestors 'Domestic Terrorists'
University Official Ridicules Pro-Life Demonstrator Who Was Attacked By Feminist Professor
Mother of Teenage Girl Accosted by Feminist Professor Calls for Civility
Jennifer Kabbany is editor of The College Fix ( @JenniferKabbany )
Like The College Fix on Facebook / Follow us on Twitter
IMAGES: Courtesy photos