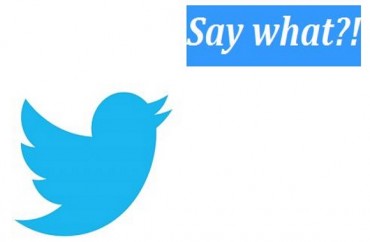 UPDATED
Tweets made by Michael Marcon, the new chairman of Ursinus College's board of trustees as of July 1, have miffed "some students" and caused a fellow board member to resign after a collection of them were shared by a student on Facebook last week.
Hard copies of the tweets were distributed around campus, as well.
Philly.com reports that in an email to staff and students, Marcon said the tweets in question were from his personal account, and were made prior to him becoming chairman.
"The tweets that were sexist made me really uncomfortable," said English major Haley Brush, who posted numerous Marcon tweets on Odyssey.  "A lot of us are wondering if these tweets reflect how he currently feels. Comments like that are really inappropriate for someone in his position."
The chairman's comments were directed at virtually anything from "typical" Obama voters, to airline travel, to Caitlyn Jenner.
Ursinus College controversy erupts over board chairman's tweets. https://t.co/Gr72ne9y7y pic.twitter.com/25JToXAnmu

— Philly.com (@phillydotcom) September 5, 2016
Marcon, chief executive president of Equity Risk Partners, said in a statement Monday night that "I am sorry for creating a situation that has led to frustration, confusion and disappointment. . . . More is expected of a trustee, and I resolve to live up to the college's high standards."

He said he intended to speak to faculty and student leaders Wednesday and "will do whatever is necessary to restore the trust."

"Not only do I know how much frustration 140 characters can cause, but I've now been on the receiving end of many difficult online comments that are painful for my wife and children to read," he wrote. …

He said he didn't intend to offend anyone but understands how "a few posts can be interpreted differently and may have caused certain readers discomfort."

MORE: Here's the top 8 worst tweets from professors in the last year

Marcon also wrote that he believes in "a free and lively exchange of ideas and that we should always challenge ourselves to understand different perspectives or just appreciate the banal observations of everyday life."

David Bloom, the board member who resigned Sunday, said he was disturbed that Marcon did not apologize outright but "rather sought to rationalize and justify his published writings."

"These tweets are far over the line and could get a student of the college expelled," said Bloom, president of Resource Real Estate of Philadelphia, a commercial real estate/investment management firm.

"I am personally offended, but also believe that this behavior goes against everything we at Ursinus and others teach long before college, which is, things said in social media can cost you jobs and before that admission to college or graduate school." …

Bloom, who had been on the board since 2013, called for Marcon to step down.
One can decide for him/herself if the tweets "are far over the line." But since Ursinus is a private institution, Bloom is correct that expulsion could be a penalty if a student had made the tweets.
In addition, tweet collector Brush didn't seem to be that uncomfortable with Marcon's remarks considering the time she took not only to gather the now-chairman's tweets, but to come up with 18 quippy headlines for them: "And he's also the Selfie Police," "Because women should shut up," and "Just … what?" are a few examples.
To be sure, some of Marcon's tweets are of questionable taste ("Don't cha just wanna punch a gum smacker in the face?") and smack of self-righteousness ("Instead of car pool lanes, I need a 'I am more important than you are' lane"), but arguably half of his comments are political in nature.
What is so objectionable (that is, aside from disagreeing with them) about Ms. Brush's #1, a Marcon retweet about a hypothetical $50 minimum wage? Or her #3, a link to a Ben Carson speech? Or the #15, a retweeted sarcastic meme featuring Bernie Sanders?
Brush noted that her sociology class held a discussion about the tweets on Friday, and the class was split on the matter: "Some thought that Marcon is entitled to free speech. Others were offended by his words and wanted him out as board chair […]"
"Some thought …"?? At least (the class's) professor added a modicum of common sense to the controversy, saying that the latter option "is probably too harsh."
UPDATE (Sept. 9): Marcon has resigned, citing the need for "for true healing and true growth to take root" with new leadership. Vice chair Nina Stryker, a 1978 Ursinus graduate, will serve as interim board chairperson.
MORE: Anti-Israel prof finally sues U. of Illinois for dumping him over tweets
MORE: KU journalism prof defends death-wish tweets directed at NRA members' kids
Like The College Fix on Facebook / Follow us on Twitter