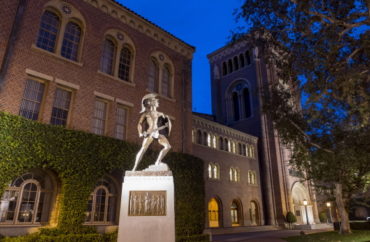 The University of Southern California is prioritizing diversity, equity and inclusion over merit and talent when awarding funding to students in PhD programs, according to a group of scholars who recently sounded the alarm on the issue as well as a memo that spells out the practice.
While dozens of universities consider DEI when distributing funding to PhD students for research, USC is "particularly extreme" in this regard, USC Professor James Moore, Columbia University Professor Spiro Pantazatos, and former USC doctoral candidate Kursat Christoff Pekgoz wrote in an op-ed for Inside Higher Ed on May 18.
"Our review of more than 30 graduate school websites for leading U.S. research universities suggests that while most leading institutions dedicate some share of resources to funding mostly or exclusively students from underrepresented groups, USC's reliance on group identity to define eligibility for centralized doctoral support is particularly extreme," the professors wrote.
A February 2022 memo sent by University of Southern California leaders to graduate program faculty details how. The elite, private school used to have two separate PhD funding programs, one specifically to advance DEI and another largely merit-based.
But the university folded the two programs into one, telling deans and other graduate school faculty to require applicants spell out their "contribution to diversity and/or the reduction of salient inequalities in a program or field" as part of the application process. This will "ensure that contributions to diversity are part of the highest awards offered by USC," the memo states.
"To advance inclusive excellence at USC and in our fields, Provost fellowship top offs should not be used for recruiting generically 'good' students, but for students who stand out through their academic or professional contributions and by contributing to diversity and/or the reduction of salient inequalities in the program and/or field," it states.
The memo argues the change was also made because "scholarships and fellowships designated specifically for minoritized students may unwittingly contribute to such students' marginalization once they enroll."
"We want to avoid any risk that our mechanisms of funding may lead to students being stigmatized or their qualifications and belonging called into question."
A media representative from the University of Southern California has not responded to The College Fix's requests for comment this month.
The scholars, in their op-ed, argued that more diverse groups of researchers in PhD programs tend to be more successful than groups lacking diversity when these groups are similarly academically qualified. However, USC is ignoring qualifications in favor of DEI quotas and reducing the quality of research produced by PhD students in the process, they argued.
"No one knows exactly what the diversity premium is with respect to team performance, but there is no reason to think that more diverse teams consisting of less qualified personnel are likely to outperform less diverse teams of otherwise more qualified personnel," the professors noted.
The professors also expressed their disappointment with the injection of "identity politics" into USC's PhD funding process.
"It is strange and disappointing that the University of Southern California leadership's interest in doctoral students affords such primacy to group membership. Injecting identity politics into an otherwise meritocratic selection process is ultimately destructive," the op-ed reads.
When reached for comment by The Fix, Professor Moore said he'd received positive feedback in response to the piece and reiterated his opposition to awarding PhD funding based on identity.
"Identity is not an acceptable criterion for allocating scarce resources and opportunities, because it is not an acceptable criterion for excluding qualified students from consideration in the process [of] making this allocation. What matters is the work, not who does it," Moore wrote.
Moore and his colleagues are not the first to raise concerns about emphasizing diversity over merit at colleges and universities.
In a May 2023 interview with The College Fix, Manhattan Institute fellow Heather Mac Donald argued that the implementation of racial quotas at institutions of higher learning will have destructive consequences.
"We are pushing people into positions with lower standards," Mac Donald said, discussing affirmative action at medical schools.
"It is certainly going to slow down our medical progress, and that will result in not curing lives," she added.
In October 2022, several conservative legal scholars penned articles critiquing affirmative action. The pieces were written in anticipation of oral arguments in a Supreme Court case brought by Students for Fair Admissions against the University of North Carolina and Harvard, alleging discrimination against Asian-American students via affirmative action.
MORE: USC students file class action lawsuit over alleged inflated rankings
IMAGE: Kit Leong / Shutterstock
Like The College Fix on Facebook / Follow us on Twitter