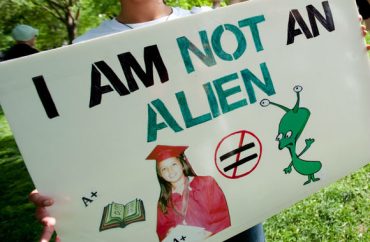 USC's Graduate Student Government has created a defense fund to help undocumented and international grad students with any legal trouble they may face in the wake of President Donald Trump's border protection policies.
The fund will help pay for Deferred Action for Childhood Arrivals renewal fees, Visa renewal fees and legal fees, as well as expenses that might come as a result of delayed or impacted travel, according to a website outlining the new policy.
"Eligible expenses include airfare, rental care, and housing accommodations such as hotel," the policy states, adding each eligible student may receive up to $700 in funding.
Chris Records, director of campus affairs for the Graduate Student Government, told The College Fix that the fund is supported by "program fees," not tuition, and is important and justified.
"Two hundred-fifty two students at USC come from the six countries affected by the ban. At least 50 undocumented students attend USC. Their tuition subsidizes domestic student tuition, in many cases. According to the Institute of International Education, 70 percent of international students pay for tuition out of pocket. Mindful of this, the Senate overwhelmingly chose to use these funds for this purpose," Records said via email.
He added that the inspiration behind the fund is to support students who are at risk of deportation or stuck in transit.
"I personally know several students who were shut out of the country in the aftermath of the first ban, who had canceled flights, who were stranded in Turkey or in Germany. These folks are Masters and PhD students, many of whom are contributing to important research in health and science, many of whom teach undergraduates. The university tangibly profits from their labor. We should support them," Records said.
He rejects the notion that the fund means domestic students lose money to pay for foreign students.
"[A]t USC, domestic students would not enjoy even half the aid that they currently receive without the additional tuition dollars that international students contribute," Records said.
The Daily Trojan reports that $20,000 has been set aside for the fund.
"With this fund, we are demonstrating both our solidarity with and our commitment to our fellow students, staff and faculty who face an unprecedented and un-American assault from forces who seek to obscure the essential contributions that immigrants and refugees have made and continue to make to this country," the USC Price Student Organization Coalition stated in a letter to the editor in the Trojan.
"We will continue to identify and pursue opportunities to stand with them in the months and years to come, mindful of the fact that the Trojan family includes undocumented and Muslim students, and that this University could not and would not be nearly as vibrant or prosperous without them."
MORE: University leaders denounce Trump's immigration order, pledge to protect 'Dreamers'
MORE: UC President Napolitano to campus cops: Don't enforce federal immigration law
Like The College Fix on Facebook / Follow us on Twitter