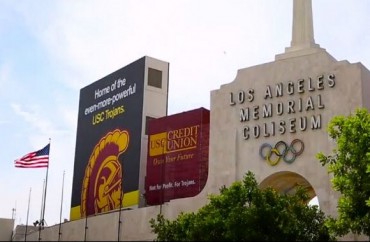 The student government at USC on Tuesday night approved a controversial resolution that calls on the university to implement a wide and costly swath of initiatives that aim to bolster diversity on campus.
Among the demands, campus leaders at the private Southern California university want officials to enroll more students of color and hire more faculty of color, despite concerns among some student senators that that amounts to racial quotas.
The resolution also seeks implementation of a mandatory diversity class for freshmen, as well as calls on administrators to have faculty embed discussions of diversity into all courses, not just ones focused on gender or race.
The resolution was approved by a 11 to 1 vote, and will now be sent to administrators for consideration.
Jacob Ellenhorn, the only student government senator who voted against the resolution, said he has received backlash for standing his ground.
"They [other senators] told me that it was really rude of me to question the authors of the resolution, and they told me that my concerns were fear-mongering, as if I was purposefully scaring people into agreeing with me," he told The College Fix. "I stand by my vote because my conscious could not let me vote yes on a resolution that perpetuates a culture of victimhood and obsession with identity."
The resolution calls specifically for the hiring of a vice president of diversity, equity and inclusion as well as a vice dean of diversity, equity and inclusion who are to ensure that all departments incorporate diversity into their course curricula.
"We should be able to take into account the diversity of these fields of study and the diversity of students within those fields of study on campus, and this is a great way to do that," according to a student who spoke in support of the resolution during the meeting.
What's more, the resolution demands administrators create a diversity requirement for all incoming students that includes discussions of "contemporary race, class, and gender from multiple perspectives."
The wording approved Tuesday night was a toned-down version of what was originally proposed, which asked that the mandatory class address "critical race theory and queer theory."
Ellenhorn has calculated that the new diversity course would cost each student $5,496, the price of one class at the private university.
Another part of the resolution calls on the university to establish an endowed fund of $100 million for scholarships, fellowships, programming and mentorship for students of "underrepresented backgrounds."
In discussions leading up to Tuesday's vote, many students voiced concern about how these funds would be supplied, and if they might hike already high tuition costs.
An amendment made to the original resolution claims the funds will be supplied without raising student tuition or through the application of additional student fees, but does not detail how the money will be supplied.
"We have to have a tangible number, and that number has to be high in order to be impactful," student senator Chris Fong stated in addressing concerns about the costly $100 million endowment fund.
Other demands for the resolution include the formation of two cultural resource centers for students on campus, as well as the expansion of those already in existence. It also calls on officials to hire a Title IX investigator to "ensure timely handling of student code of conduct violations."
One part of resolution in particular caused heated discussions prior to Tuesday night's vote. It calls for the development of a "Diversity Strategic Plan" that would increase recruitment and enrollment of students and faculty from "underrepresented populations." For some, including Fong, that sounded like a call for racial quotas in admissions, raising several concerns.
In response, student senator Sanjay Mahboobani said "USC brags about having the most diverse population, but we do not give that population enough resources or show support for them at all. This act does not mean that we are biasing admissions based off the color of skin, it means that we are considering it."
Dismissing all concerns regarding the resolution, student government senator Darian Nourian commented: "In the end, the most important part is the spirit of this bill, no matter what administration decides to do with it."
Like The College Fix on Facebook / Follow us on Twitter