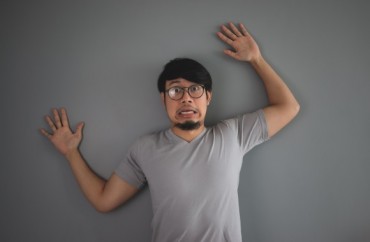 Using offensive words is an "act of violence," according to a majority of students recently surveyed in a nationwide poll.
These numbers indicate a growing trend among college students to equate using certain words to violence. The nationwide online survey asked 1,000 college students aged 18 to 24 if "choosing to use or not use certain words can constitute an act of violence."
A majority of respondents, 53 percent, agreed some words equal violence, with 21 percent "strongly" agreeing and 32 percent "somewhat" agreeing. Only 21 percent somewhat disagreed with the statement, 13 percent strongly disagreed, and the rest said they didn't know.
"To see such high support for that concept is troubling and indicates more needs to be done to prepare students entering institutions of higher education," said Emily Jashinsky, spokeswoman for Young America's Foundation, which commissioned the survey. It was conducted in September and released late last month.
There are many real-world examples that corroborate these results, showing that the term violence or the notion of violence is used flippantly on colleges these days.
Last month, Southern California students protested a mad scientist-themed party at Harvey Mudd College, claiming it represented "violence against disabled people." And in April, a speech by conservative feminist Christina Hoff Sommers at Oberlin College was equated to violence that demanded an alternative "safe space."
When transgender actress and activist Laverne Cox gave a speech at George Washington University in April of this year, she told the crowd "I've come to understand after all these years of experience that calling a transgender woman a man is an act of violence." The audience went wild with applause.
YAF's Jashinsky, an undergrad at GWU during Cox's speech, told The Fix that "LGBT students said my refusal to use [gender-preferred] pronouns was 'an act of violence,'" an example of how not using certain words is also considered violent by some campus activists.
These instances are especially perplexing given the same survey found that 84 percent of respondents strongly or somewhat agreed that free speech should be allowed on campus, even if they disagreed with what was said.
Nevertheless, students increasingly equate speech deemed offensive with violence, "seemingly contradictory results" with their support of free speech, which makes sense if given in context, argued David French on National Review.
"In general, the more specific the questions got, the more support for free speech evaporated," French wrote about YAF's survey. "For instance, while 77 percent of students believed that students should be 'allowed to fly the gay pride flag,' only 41 percent believed that students should be permitted to fly the Confederate flag. Only 42 percent said students 'should be allowed' to use names such as 'redneck,' 'Bible thumper,' and 'Uncle Tom.' In other words … the instant that free speech starts to look like a 'bias-related incident,' students start supporting censorship."
"Perhaps students aren't confused at all," French continued. "Perhaps they're merely good learners. Colleges by word and deed teach students that there is 'free speech' — the speech they find valuable enough to protect — and 'not speech,' the expression they really, really don't like. The gay pride flag? Speech. The Confederate flag? Violence."
Students upset by things that they hear often cite a favorite argument that the First Amendment does not protect "hate speech." But the First Amendment does in fact protect "hate speech" as Eugene Volokh of UCLA Law School recently explained in his Washington Post blog.
"There is no hate speech exception to the First Amendment. Hateful ideas (whatever exactly that might mean) are just as protected under the First Amendment as other ideas," he wrote. "One is as free to condemn Islam — or Muslims, or Jews, or blacks, or whites, or illegal aliens, or native-born citizens — as one is to condemn capitalism or Socialism or Democrats or Republicans."
Students, or at least some students, do realize the consequences of stifling speech deemed politically incorrect. More than half of the students polled – 64 percent – agreed that "political correctness made it difficult to talk openly about various issues on campus."
"Teaching students to reflexively ban everything that offends them is not the right way to cultivate a generation of well-rounded, intellectually sharp Americans," Jashinsky said.
Like The College Fix on Facebook / Follow us on Twitter
IMAGE: Shutterstock