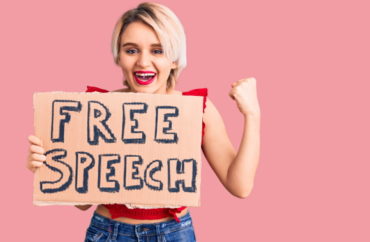 UPDATED
'Landmark victory for free expression'
The University of Texas at Austin has agreed to dissolve its bias response team as part of a settlement agreement with Speech First, a nonprofit pro-free speech group.
The settlement agreement, filed December 22, stems from Speech First's two-year-old lawsuit against Texas' flagship public university, the group's website states.
"This landmark victory for free expression means the University of Texas can no longer intentionally chill student speech while ignoring the guaranteed protections of the First Amendment," the website adds.
The settlement agreement was signed by UT Austin President Jay Hartzell, who took the helm of the university in September 2020, nearly two years after the complaint was originally filed by Speech First.
Speech First notes UT Austin has also agreed to the following terms:
The school has removed the provision in its internet policy that prohibited sending "rude or harassing correspondence," and will not reinstate it.

The school has revised the provisions in its Residence Hall Manual governing harassment and incivility, and will not reinstate them.

The school amended its definition of verbal harassment, and will not reinstate the prior definition.
What's more, if UT Austin ever creates some sort of alternative to its bias response team, officially called the "Campus Climate Response Team," Speech First may challenge that alternative in a new lawsuit, according to the terms.
The CCRT had acted as a clearinghouse that referred possible bias incidents to other offices, and even made preliminary judgments about whether a violation occurred. It had accepted hearsay from anonymous students as well as from alleged victims and witnesses.
Speech First represented three students who credibly feared punishment for simply expressing their views on subjects such as abortion, affirmative action, gun rights and Israel.
In October 2020, an appeals court ruling had reinstated the speech-code lawsuit against University of Texas. The court agreed Speech First's members faced "credible threats of enforcement" under the challenged policies.
Asked to weigh in on the agreement, UT Austin spokesman J.B. Bird told The College Fix via email on Saturday: "The university is firmly committed to continuing to protect and promote the free speech of all students. The settlement deals with university policies and ensuring speech is not chilled. Under the settlement, the university accepts the policy changes sought by Speech First and believes these changes will further promote free expression on our campus, which is at the heart of what we do as an academic institution."
Speech First's President Nicole Neily said in a statement: "We are delighted that students at the University of Texas will be able to fully exercise their First Amendment rights without credibly fearing disciplinary action from their administration."
"Public universities that maintain policies that have both the purpose and the effect of chilling student speech will be held accountable – and furthermore, this decision clearly shows that the days of mooting lawsuits simply by changing university policies during the course of litigation are over."
MORE: The College Fix investigates bias response teams
The news was first reported by The Wall Street Journal in a Dec. 24 editorial headlined: "A Lone Star Speech Victory," which noted that the settlement means the "ban on 'uncivil behaviors and language that interfere' with the 'welfare, individuality or safety of other persons'" is gone.
"Also stricken is a definition of 'verbal harassment' that prohibited 'ridicule' or 'personal attacks.'"
Texas Gov. Greg Abbott praised the decision in a Dec. 26 tweet.
"Political correctness is being ended at the University of Texas at Austin," the governor stated. "… This is consistent with the campus free speech law I signed last session."
Political correctness is being ended at the University of Texas at Austin.

UT agreed to disband its absurd PC police and end policies that suppress speech on campus.

This is consistent with the campus free speech law I signed last session. https://t.co/qXKot20r49

— Greg Abbott (@GregAbbott_TX) December 26, 2020
Abbott refers to a Texas law passed in 2019 that protects free speech on campuses by establishing "disciplinary sanctions for students, student organizations, or faculty who unduly interfere with the expressive activities of others on campus," among several other measures.
MORE: Court reinstates speech-code suit against UT: 'why maintain policies at all?'
Editor's note: This story has been updated with a statement from UT Austin.
IMAGE: Kraken Images / Shutterstock
Like The College Fix on Facebook / Follow us on Twitter