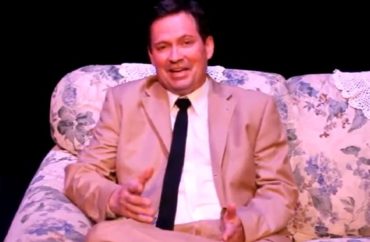 University threatened him with termination
A theater professor filed a federal lawsuit against Southern Utah University after it sanctioned him for refusing to use the preferred pronouns of a "non-binary" student.
Professor Richard Bugg's pending lawsuit asks a federal court to stop the university from pressuring him, and potentially firing him, if he does not use a student's pronouns. He offered to use any name for the student or singular pronouns as a compromise.
Southern Utah University officials required Bugg, following an investigation, to submit to education about personal pronouns, according to the lawsuit.
"Professor Richard Bugg [must] submit to education about current views and opinions of English language and grammar experts and resources that using Gender-Neutral pronouns when referring to an individual is now considered grammatically correct," one sanction stated.
The university warned Bugg (pictured, at his annual Neil Simon festival) that refusing to use someone's preferred pronouns would be considered a violation of university policy and could lead to termination. His decision would be considered a violation of the university's rules against non-discrimination, harassment and sexual misconduct.
"I …am opposed to the coercion of speech that is taking place on our campus and on most campuses," Bugg stated for the lawsuit. "Asking people to use plural pronouns to refer to individuals is one thing. Forcing them to do it is another and contrary to our rights of free speech."
His attorneys point out that "non-binary" individuals can have ever changing pronouns, and a professor cannot be expected to keep track of every student's pronouns.
MORE: 'We cannot give in' – Professor who won pronoun battle speaks out
"There are at least several dozen recently-coined specific gender pronouns by which non-binary students may potentially choose to have themselves addressed," the lawsuit stated. "As but a small example, these pronouns include not only 'They' and 'Them', but also, e.g., Zie, Ze, Sie, Ey, Ve, Tey, E, Zieself, Hirself, Eirself, Verself, Terself, Emself, Hir, Xe, Xem, Hy, Hym, Co and Coz."
The student who complained "expressed to classmates that [the student's] goal was to get the Professor fired because he would not agree to [the student's] demands," the lawsuit stated.
"To further that goal, the record reflects that Complainant exerted strong pressure on Complainant's classmates to boycott the Professor's class," the lawsuit alleged. The complaining student also "demanded that the University establish an alternate so-called 'shadow class' for those who would go along with Complainant's plan for a boycott of the Professor's class."
The university's response to the lawsuit stated that there is not an official policy requiring the use of someone's pronouns.
"While there is no SUU policy that specifically requires the use of gender pronouns, the University must strictly adhere to federal regulations regarding anti-discrimination (Policy 5.27) and sexual misconduct (Policy 5.60) under Title VII and Title IX respectively," the university stated. "Those regulations were updated in January 2021 with the Biden Administration expanding the definition of sex to include gender identity. SUU employees are required to follow these federal guidelines, just as are all people who are employed in either the private or public sectors."
The Fix asked Southern Utah University if it could explain where in the federal regulations it says that professors must use a student's personal pronouns as well as for further comment on the lawsuit.
"There will be no further media comment regarding this case," SUU media relations director David Bishop told The Fix on September 8.
The College Fix also reached out to Bugg and the Title IX Office for comment on September 7, but did not receive a response.
MORE: University advises staff on 'neoprouns' and 'catgender'
IMAGE: Neil Simon Festival/YouTube
Like The College Fix on Facebook / Follow us on Twitter