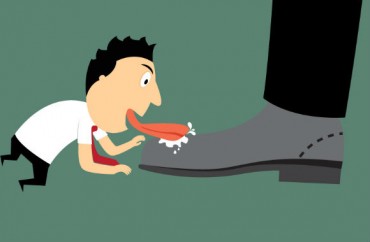 As the perpetually (racially) aggrieved must be placated, University of Wisconsin Madison Chancellor Rebecca Blank has officially apologized for the fans who, at October 29's home football game, dressed up as Donald Trump, Hillary Clinton and Barack Obama — complete with noose around the latter two's neck(s).
"I am personally very sorry for the hurt that this incident and our response to it has caused," Blank told a Faculty Senate meeting. "I have heard from students, faculty and community members who are dissatisfied with our response and I understand why."
The main issue, of course, was the noose:
"A noose is a symbol of some of the worst forms of racial hatred and intimidation in our country's history. We understand this and we should have communicated this more forcefully from the beginning. A noose displayed in this fashion has no place in Camp Randall."
Blank then noted the revocation of the fans' season tickets, claiming that they "brought a prohibited item into the stadium and failed to follow the direction of […] event staff."
Except that, as the Milwaukee Journal Sentinel points out, this backpedals from the university's initial claims that the fans complied with stadium staff when asked to remove the costumes/paraphernalia.
Not to mention, Blank had stated that the school "must resist the desire to outlaw forms of speech and political dissent with which we disagree."
Carry-in and ticket policies, as well as conduct rules, are being reviewed for Camp Randall and other sports venues, and changes or clarifications about conduct at the stadium will be announced prior to Saturday's football game against Illinois, the chancellor said.

Blank said other policy reviews will require broader campus input, which will take place over a longer period of time.

"This is a work in progress, and we are a long way from where we want to be," Blank said. "But with your advice and input of governance, we have invested time, energy and effort into things like the Our Wisconsin program aimed at incoming freshmen, a bias reporting system, a review of our ethnic studies curriculum, and a black cultural center."

MORE: Free speech 'sliding scale' on display at UW Madison

Later Monday, student athletes, including senior basketball player Nigel Hayes weighed in on race relations on campus.

Hayes urged the university, "not to continue to sweep the collective experiences of the students of color under a rug."

"These issues are in no way localized to UW, this is a national issue, and many university's across the nation need to start addressing how students of color are treated," Hayes said in a post on Twitter.
Hayes' comments were picked up by USA Today.
I wonder if Hayes had any thoughts on the "All White People Are Racist" hoodies sold by fellow UW student Eneale Pickett. If this tweet of his is any indication, he probably has little issue with 'em.
Remember, too, that UW-Madison is so concerned about campus racial well-being that views on racism from a guy like Pickett are actually considered meaningful.
Read the full Journal Sentinel article and Blank's full statement.
MORE: Here's the whole truth behind 'Obama lynched' costume at UW-Madison
MORE: UW-Madison won't denounce student's 'All White People Are Racist' hoodies
Like The College Fix on Facebook / Follow us on Twitter
IMAGE: Artit Fongfung/Shutterstock