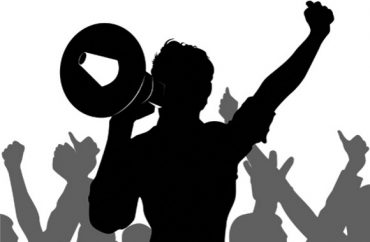 Guidelines detail what actions can get students suspended, expelled 
In the wake of University of Wisconsin System leaders requiring that students who aggressively disrupt campus events be suspended or expelled, the University of Wisconsin Madison has developed protest guidelines that spell out exactly what can get a protesting student in trouble.
The guidelines were developed in response to the UW System Board of Regents policy approved last year that states students who attempt to silence a speaker or shut down events should be suspended or expelled.
UW system leaders allow each university to determine what it considers to be disruptive and non-disruptive behavior. If the student is found in violation of the guidelines twice, they are required to be suspended from the university, and if a third time, expelled — a so-called three strikes policy.
This month, UW-Madison released its "Protest Guidelines" document that spells out how campus leaders there define disruptions.
In it, disruptions are defined as "behaviors which materially and substantially disrupt another person's freedom of expression or the ability of others to receive the expression."
Examples listed include "producing noise that interferes with events and activities" and "blocking the vision of others in any manner," such as with signs, props, clothing and other items.
Other disruptions include using laser pointers, turning off lights in the room, and setting off alarms, the guidelines state.
Protesters can hold signs if they do not impede anyone's views, and engage with the speaker at the appropriate time, such as the Q&A.
"These guidelines codify many practices that UW-Madison has used for years to successfully facilitate events, protests and counter-protests in ways that respect the free speech rights of all parties," university spokesperson Meredith McGlone told The College Fix via email.
"We shared this document at the beginning of the academic year to help individuals and groups plan for peaceful events and to provide students with behavior expectations as they participate in these campus activities," she said.
An online article published by the university's news outlet put it this way: "Bottom line: Protesting is fine, disrupting others' free speech is not."
The University of Wisconsin Madison has seen some aggressive protests. For example, in 2016, protesters shouted down conservative pundit Ben Shapiro during part of his speech.
"We want students to care deeply about issues — generations of UW–Madison students have helped change history by doing just that," stated interim Dean of Students Argyle Wade. "But we also need to make sure that when students protest, they don't impede the free speech of others, even when the views being expressed may be unpopular."
MORE: 'Tough' anti-free speech activists intimidate diminutive female radio host at UW-Madison
IMAGE: Shutterstock
Like The College Fix on Facebook / Follow us on Twitter