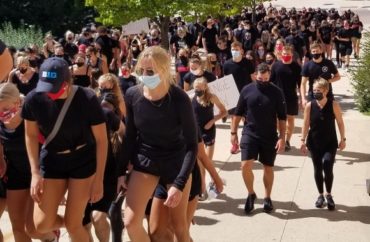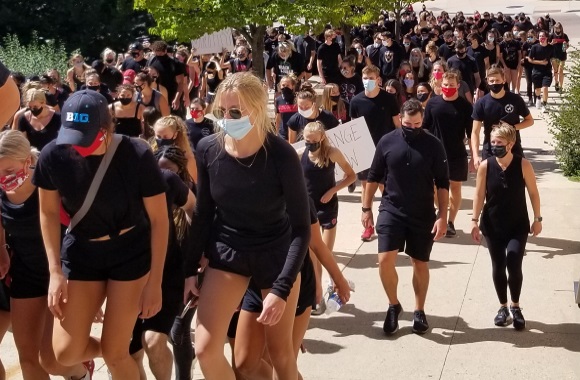 MADISON, Wisc. — Hundreds of students and big-name student athletes at the University of Wisconsin Madison gathered Friday afternoon to march for diversity, arguing the campus is not a comfortable place for students of color and calling for more to be done to diversify the student population.
The event, "Unity Rally For Diversity On UW Campus," was organized by UW's Athletic Department and the Black Student Union. Protesters wore all black and donned masks at the event, which included a march and speeches.
Although some of the demands that the march was precipitated on include removing a statue of Abraham Lincoln from campus and a controversial boulder that was once called the n-word, students and speakers at the rally focused nearly exclusively on the call for diversity.
Not once did a speaker bring up the controversial displays, despite their speeches being given in front of the Lincoln statue.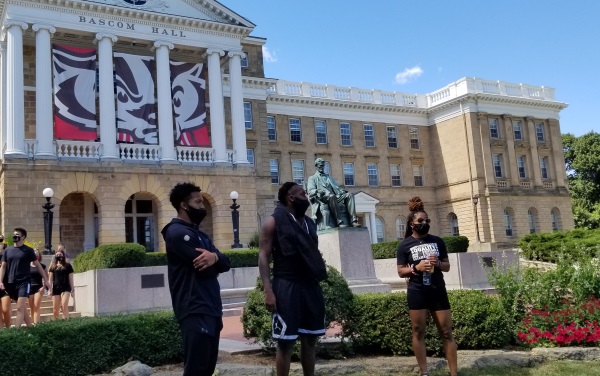 "Since my first year here, I realized this campus was not for me," former UW basketball player Samad Qawi, a recent graduate, told the crowd.
"Our demand," Qawi continued, "is to bring diversity, inclusion, and Black students and POC to campus with a $2 million dollar scholarship."
Qawi is referring to a demand that the athletic department create a $2 million dollar annual scholarship to help 40 additional black students per year attend UW-Madison by funding their tuition, housing, books and fees.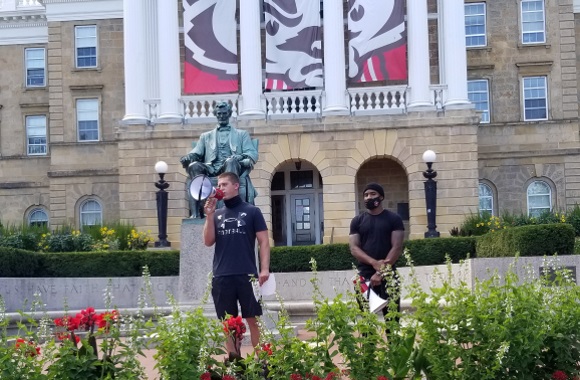 Senior quarterback Jack Coan, a white student, said during his speech that the overabundant white student body needs to change, saying that everywhere one could go on campus, "All you see is white people."
The march drew about 250 demonstrators. They were led in chants by Wisconsin Basketball player Aleem Ford. The crowd repeated various phrases such as "One team," "Unity now," "Change now," and "We are Badgers."
The march ended at Bascom Hill, the site of the controversial Lincoln statue, which campus activists have been advocating for removal of since earlier this summer.
The top demand on a current petition is "remove the Abraham Lincoln monument located at the top of Bascom Hill and replace it with someone who stands for the justice of all people."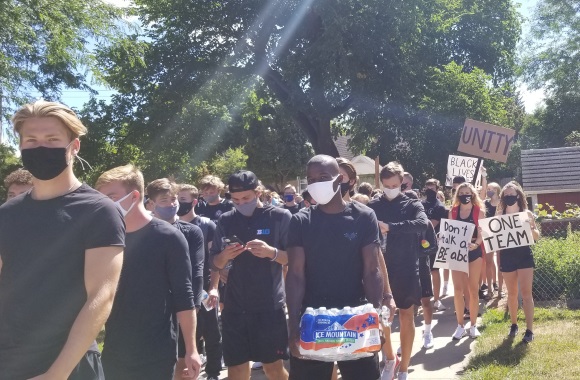 Friday's speeches addressed Black Lives Matter and themes of unity.
Track and field athlete Armoni Brown said the university needs to be held accountable for the lack of diversity on campus, saying black students make up just 2 percent of the student body.
"We want change," she told the crowd, "we expect change, and we want it now."
Football defensive back Faion Hicks, a major player in the successful push to have black campus crests adorn student athletes's jerseys instead of white ones this fall, also spoke at the rally.
Hicks touched on a healing wound from the previous fall semester caused by a homecoming video produced by the school that featured no people of color in the final production despite having filmed multiple clips with black students in them.
This issue led to the creation of a second video by the Black Student Union which was shown at Wisconsin's homecoming football game later that week.
"What side of history do they want to be on," Hicks asked of university administration.
While the call for diversity was the main focus of the event, several black students interviewed by The College Fix said they did not know about, or have a strong opinion on, the call to remove Chamberlin Rock or the Lincoln statue from campus in the name of equality.
Ironically, several white students took more offense to the monuments than their black counterparts did.
"I think that it is a stupid rock with a terrible history and it would be awful if it was continued to be on campus," one white student said about the Chamberlin Rock.
"Obviously, Lincoln did a lot to make this country more inclusive, but the fact that its donor was a person who was not so great, let's just say, is problematic," added another white student.
MORE: UW-Madison eyes removal of historic 70-ton boulder due to Black Student Union demand
MORE: Student activists seek to remove Lincoln statue at UW-Madison
IMAGES: Jackson Walker / For The College Fix
Like The College Fix on Facebook / Follow us on Twitter