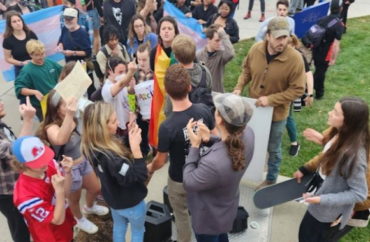 MADISON, Wis. — Pro-transgender rights protesters and Christian demonstrators clashed Monday at the University of Wisconsin Madison ahead of controversial conservative Matt Walsh's "What is a Woman" campus speech.
The documentary questions the validity of the transgender ideology, drawing outrage from some who vandalized the campus in the early Monday morning hours with vulgar graffiti.
At the height of Monday afternoon's protest, a police officer blew his whistle to break up a shoving match amidst a crowd of protesters as people scattered before continuing to shout.
One student, Christian activist Nick Proell, told The College Fix he had his Bible ripped by protesters and was spat on.
One short video posted by YAF shows Bible pages scattered across the road, with one protester who appears to put a page in her mouth and chew on it.
Protestors have now shredded The Bible and one began eating pages pic.twitter.com/o5DACq64LP

— YAF (@yaf) October 24, 2022
Initially, the protest began relatively calmly around 4 p.m., with pro-transgender demonstrators chalking slogans on sidewalks and holding signs such as "being trans is not a crime" and "trans identities are valid."
Their chants also consisted of the traditional "hey, hey, ho, ho, transphobia has got to go" mantra as well as "f*ck your system, f*ck your hate, we are not here for debate."
About an hour into the protest, however, a handful of Christian students with Bibles, signs and a megaphone of their own showed up and set up across the street from the larger demonstration.
The Christian students began quoting scripture as well as saying to the crowd they were there to tell them they loved them.
The pro-transgender demonstration began to chant back, saying "sexist, racist, anti-gay, Christian fascists go away," followed by a chorus of "f*ck Matt Walsh" and "eat sh*it, f*ck you."
Then a large crowd of pro-transgender demonstrators crossed the street, leading to a larger swarm of people who surrounded the Christians and began chanting vulgarities in their face.
In response, the handful of Christian students climbed atop a raised platform on East Campus Mall to take higher ground. For a moment, the conflict ignited into violence as a shoving match broke out atop the platform before police intervened to quell the agitated crowd.
The activists continued speaking in an attempt to engage members of the crowd, but the demonstrators did not appear interested in a discussion.
The police escorted the Christian students away, citing safety concerns. The pro-transgender demonstrators cheered in response, chanting they "believe they will win" before eventually dispersing.
Members of the Christian students who were at the protest told The College Fix they do not identify with any specific campus student groups. They said their message had less to do with Walsh and more to do with spreading the word of God.
"Nothing really surprised us. We come out to these events all the time and it's very volatile. It's not a place for public discourse, they don't want to discuss their ideas or their opinions," said Christian activist Jonathon Storms. "We expected to be canceled."
The Wisconsin chapter of Young Americans for Freedom sponsored Walsh's visit. Though the university did nothing to halt the event, members of administration made public statements against the speech via UW-Madison's social media a day prior.
Members of the Madison Socialist Alternative and Madison Abortion Reproductive Rights Coalition were among the groups that met to protest the talk. Leadership of both groups declined interviews with a College Fix reporter at the scene.
Walsh's speech appeared to take place without trouble, according to a video of it posted online by YAF.
MORE: UW-Madison veteran's memorial, statues, other campus fixtures defaced ahead of 'What is a Woman' Walsh talk
IMAGES: Jackson Walker / For The College Fix
Like The College Fix on Facebook / Follow us on Twitter