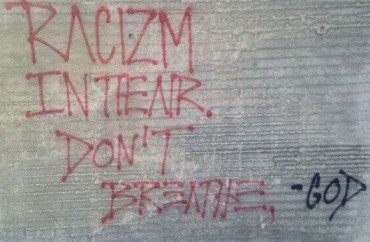 The recent classroom arrest of a black University of Wisconsin-Madison student accused by campus police of spraypainting phrases such as "fuck the police" and "the devil iz a white man" on campus has traumatized students, according to an open letter circulated Wednesday by the Department of Afro-American Studies.
"What so many of you are experiencing isn't a sign of individual weakness," states the two-page open letter addressed to "students of color," a copy of which was obtained by The College Fix.
"It's a version of post-traumatic stress syndrome, a mental health crisis as serious as those following campus shootings or natural disasters. … [W]e ask that emergency mental health support be made available to all students affected by recent events," it states, noting there have been other racist events on campus in recent weeks to cause students such alarm, but citing no examples.
At issue is the arrest last week of UW-Madison senior Denzel McDonald, referred to as "King Shabazz" on campus, as he sat in an afro-american studies class. Campus police allege he spray-painted so-called "anti-racist" messages around campus over the last six months. Vandalism he is accused of spraypainting included: "Racizm in the air. Don't breathe, God" and "White supremacy is a disease."
According to Fox 29, "The police chief did apologize for disruption caused by the arrest of Denzel McDonald, but said in a statement that efforts to apprehend him outside of class were unsuccessful and that officers did not realize class had begun."
"McDonald was subsequently arrested on 11 preliminary counts of vandalism and one count of disorderly conduct, for allegedly threatening to kill someone who saw him painting the graffiti. Prosecutors have not yet formally charged McDonald, who has been released on bail," the local Fox affiliate added.
No matter, the incident has thrust the campus into a frenzied state of racial unrest.
Today a campus protest titled "We Are GOD: A Day of Disrupting white Supremacy & Anti-Black Racism at UW-Madison" is planned.
"At the same time King was taken out of his classroom by UWPD (11:30am), we will be walking out of our classrooms to stand in solidarity with him and to organize against the anti-Black racism that has plagued our campus historically and contemporarily," organizers state on Facebook. "We will be delivering our demands to the Chancellor and UWPD and need student support. We have to let them know that there are consequences for perpetuating white supremacy."
But not everybody at UW-M believes reaction to this situation makes sense.
"When you consider what the kid wrote, it is beyond comprehension that the [Afro-American Studies] department would think that it was the non-white students who had been traumatized," said UW-M PhD candidate and College Fix contributor Jason Morgan in an email to The Fix on Wednesday.
"Would the professors who are supporting this vandal be as enthusiastic about his destruction of property if he was spray-painting over the Bernie stickers on their new Volvos, or along the side of their suburban homes? And, are we to assume that, in supporting Mr. McDonald, the professors are supporting him in toto, including his threats to kill passersby, his appalling racial hatred, and his nom de spraypaint, King Shabazz, the Black Panthers criminal who has 'Kill Whitey' tattooed across his face?" Morgan added.
The Department of Afro-American Studies' open letter, meanwhile, calls on administrators to allocate resources to fund "the mental health needs of students of color … during this time of crisis."
RELATED: UW-Madison to hire more counselors to help students cope with microaggressions
The professors wrote that they also want the university to require the ethnic studies requirement be fulfilled within the first two years on campus.
The letter encourages students of color to hang on to hope.
"We love you, value you, and trust that you'll survive as your parents survived the malevolent neglect of the 1980s, your grandparents survived Jim Crow, your ancestors kept faith when it seemed impossible. You are the bright and morning star of their fondest hopes and we are proud of you," it states.
Meanwhile, at least one professor canceled class over the arrest, and others scholars and students say they are furious that McDonald, 21, was arrested at all, the Daily Caller reports.
"Several hundred angry professors and students have signed a letter complaining about racism," it reported. "The letter, published Thursday, charged that school officials are 'more interested in protecting the symbols of UW as a progressive institution like their buildings' instead of 'the students who are actually fighting for social change, and apparently their lives.'"
Like The College Fix on Facebook / Follow us on Twitter
IMAGE: University of Wisconsin Police Department