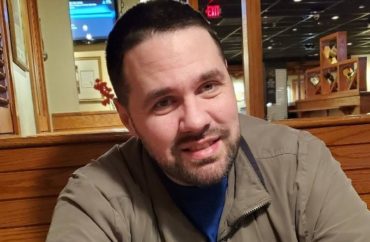 Campus paper and organization condemned him as a 'white supremacist'
The suspect in a January break-in and vandalization at the University of North Carolina at Chapel Hill has been arrested after spending several months in a hospital.
The Campus Y, the social justice organization's whose building was vandalized, condemned the perpetrator in January as a white supremacist and suggested he could be part of a "far-right group." The suspect entered the building through an unlocked door that the organization said had been broken for some time and it had asked to be fixed.
"The administration must do better to mitigate the threat of white supremacy on campus, and allocate resources to student groups such as the Campus Y to protect them from targeted acts of hatred and violence," the Daily Tar Heel said.
But a review of his social media posts show someone who has a number of rambling and incoherent statements.
Kevin Sleem (above) has been charged by the Orange and Chatham County District attorney with a felony breaking and entering and a misdemeanor vandalism charge, according to Kate Maroney, a university spokesperson. He allegedly drew swastikas on the ground and stole tax files and wrote his name on the whiteboard at the building.
A staff member for District Attorney Jim Woodall told The College Fix via phone that Sleem is scheduled to appear in court on June 25. She directed The Fix to speak with attorney Blake Coraline for a more detailed update about the case. Coraline did not respond to a May 26 voicemail.
The Fix had previously reached out to Sleem for comment in February about his possible role in the vandalism.
"Hey Ashley, Kevin here. (Or Eddie, at UNC, the chancellor is the other Kevin)," Sleem said. "Yeah, please feel free to email me, either email account. I like watching news shows sometimes."
"Right now I'm watching Chad Sanders on C-Span, He wrote a book called Blac Magic, and he's been to Berlin and London. Me too! My LinkedIn page is more professional, formal documents. Starbucks, for coffee? My wife's name is Candice," the suspect said.
His social media posts are no more comprehendible.
A review of Sleem's social media posts, publicly available without being his friend on Facebook, show some statements that push anti-Semitic conspiracy theories but also show a number of Google docs, failed job and school applications, and even some anti-Republican statements.
"This doesnt make any sense, if he is so rich, owns a 10 million dollar house in Atlanta Georgia, multiple Earth Stock Exchanges, and NYSE Rothschild, then why didnt she win?" Sleem wrote on January 22. Sleem's comment appears to be in relation to Georgia Republican Senator Kelly Loeffler's January election loss.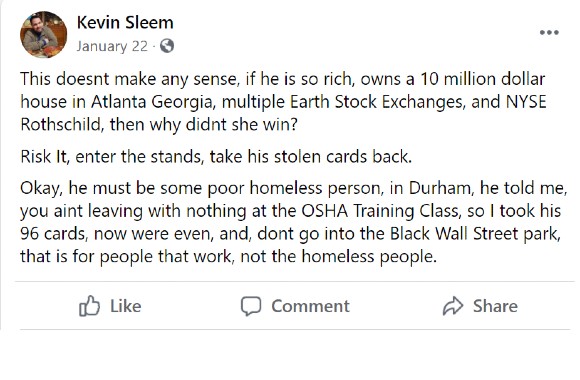 Loeffler is married to Jeffrey Sprecher, chairman of the New York Stock Exchange. The reference to the "Rothschild" appears to be the anti-Semitic conspiracy theory about the Jewish banking family and how they control the economy or world affairs.
Another post includes an application or notes on applying for an internship with the Clinton Foundation.
"And, Tim Tebow, the gay and retarded man from UNF, and he is," Sleem wrote on January 22.
A January 19 post shows that Sleem had been turned down for his application for a doctorate in electrical engineering from University of Nevada-Las Vegas.
"There was a murder at the US Capitol Building, the Army better be there; this will likely be a long term investigation, possible court dates for 5 years hence," Sleem wrote on January 18.
"Why do I have to donate money to join the Biden and Harris internet concert tonite, it should be free," Sleem wrote on January 17. Other posts indicate he signed up for President Joe Biden's campaign emails.
"Mitch McConnell, Involuntary Commitment Notice by Dr. Sleem, please report to Duke Hospital, soon, for racism, thats unlawful," he wrote on January 12. "Mitch McConnell broke his oath of office and allowed this event to happen, dont run your mouth in open court."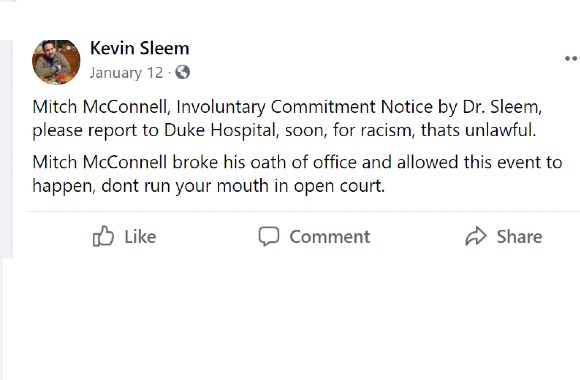 Photos posted by Sleem show he had been rejected by the state for failing to disclose a number of felonies on his application to become a licensed insurance agent.
"CEO, Nation of Islam, Kevin Sleem," he wrote on January 9.
Another post includes a cutout of a newspaper article with swastikas drawn around the border.
Sleem posted a picture of himself and his arrest records, and another picture of his parole information. He refers to himself as "Dr." and has multiple university email addresses. The Fix reached out to Durham Tech asking if Sleem was a student at the university. Director of Communications Nathan Hardin told The Fix via email that Kevin Sleem was not enrolled as a student.
Anyone with his name, which would include at least one Campus Y staffer Sarah Smith, the witness on an obtained police report, could have researched him before Campus Y launched to condemn the incident as an example of white supremacy.
The College Fix reached out to two Campus Y staffers on May 27 and asked if they had any plans to release an addition statement on the arrest and if they still believed Sleem was a white supremacist. The Fix also asked if staff members had researched Sleem's social media before releasing its statement in January, since his name would be known to the organization.
"Thank you for your message," Yalitza Ramos, the organization's interim director, told The Fix on May 27 and shared the general media email for the university. Ramos did not respond to a follow-up question that asked if the Campus Y, which released its own statement at the time, had a statement. Ramos did not respond to the follow-up email.
Erin Reitz, Campus Y's communication officer, did not respond to the May 27 email, either.
MORE: Hate crime report leaves out that 90 percent of suspects are black or Latino
IMAGES: Kevin Sleem/Facebook
Like The College Fix on Facebook / Follow us on Twitter