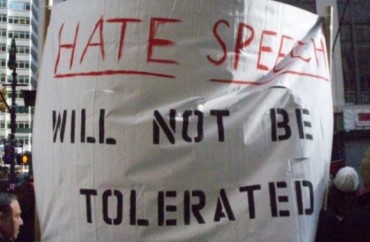 Never let it be said that modern campus activists, if not college administrators, are consistent.
At the University of Minnesota, the Washington Avenue Bridge plays host to various campus group "panels" which feature messages of the organizations' choice.
This past week, as reported by the Minnesota Daily, the Muslim Students Association's panel was vandalized with the spray-painted acronym "ISIS." Various "religious and political communities" at the school condemned the act as "hate speech."
In addition, posters were put up around campus which dubbed the MSA antisemitic, and linked the group to the terror organization Hamas.
Muslim Students Association President Sidhra Musani said Muslim University students are distressed by the vandalism. …

[…] CAIR-Minnesota Executive Director Jaylani Hussein said he's concerned for the safety of University Muslim students, calling the vandalism a well-known tactic for Islamophobes.

"By labeling the Muslim Students Association as ISIS is exactly what Islamophobes intend to do nationally and even locally," Hussein said. …

MORE: U. Minnesota president grovels before activists, but defends free speech for now

Muslim Students Association reported the vandalism to University officials. President Eric Kaler and Vice Provost for Student Affairs Danita Brown-Young sent a campus-wide statement Thursday, calling both incidents "abhorrent" and "hateful."

Kaler said in the statement the Office of Student Affairs and the University's police met with students affected by both incidents, and will meet with the University's student government to determine next steps.

"When our students are targeted and made to feel fearful, we as a community suffer," he said in the statement. "Repugnant actions like these must strengthen our resolve to ensure our campus is safe, welcoming, and respectful for all. We all must speak out against hate when we see it."
Muslim & Pro-Palestinian students at the University of Minnesota are under attack. https://t.co/OupgaWcbJV via @imraansiddiqi @hatehurts_

— Arjun Sethi (@arjunsethi81) November 5, 2016
The Daily points out that the bridge incident "was the second in the last month," the first being the painting over of the College Republicans' bridge panel message "Build the Wall."
But in that case, President Kaler — while defending the right of the CRs to express political speech — whined that their message "should have been more inclusive about recognizing the pain it caused." And that caveat was insufficient for the campus SJW snowflakes.
Will Kaler inform the SJP that some of their messages "should be more inclusive about recognizing the pain" they cause — like, say, towards Jews, in particular?
Don't hold your breath.
MORE: College Reps scrawl 'Build the Wall' at event, are reported to 'bias incident team'
MORE: College Republicans 'trigger warning' wall message quickly painted over by critics
Like The College Fix on Facebook / Follow us on Twitter
IMAGE: Ashley Marinaccio/Flickr