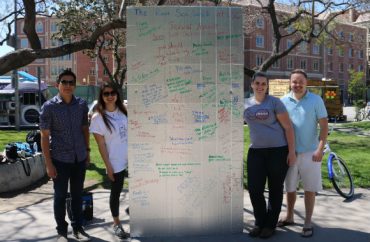 Helping student parents, warning about porn's effects on relationships
Many colleges offer students a "Sex Week" that teaches them about using protection, obtaining consent and getting tested for sexually transmitted infections.
Students for Life at the University of Southern California decided such discussions were too shallow and neglected the most important matters about sex.
The pro-life club hosted its own "Real Sex Week" last week, and while the events did not promote an explicit pro-life agenda, they focused on a healthy conception of sex that is often missing on campus.
Not all of their peers appreciated the different perspective.
Given the past response to pro-life efforts on campus, Students for Life members were afraid their flyers would be taken down, which is exactly what happened, President Cassandra Turner, told The College Fix in an email.
Every flyer in one building, about 20, was removed, and another 10 flyers were removed from another building, she said. But turnout throughout the week was higher than they expected – the high point was 45 people attending a talk by a former porn actress.
Getting past the 'stigma' of talking about it
There's nothing wrong with teaching students prudent things about having sex responsibly, according to the club.
But the students wanted to "expand this conversation to include questions such as – What effect does pornography have on your relationships and your brain?" according to Lisa Ebiner Gavit, former president of the USC chapter and 2016 graduate.
"How can a bystander prevent sexual assault? How can we better support student-parents on campus? Does hormonal birth control have lasting effects?" she said in an email to The Fix.
The conversations, speakers and workshops also probed questions including "Does your reproductive health influence your overall well-being?" and "How does one's self-worth impact the health of their relationships?" Turner said. "How does media portrayal of sex influence our beliefs, [and] how can we best support survivors of sexual assault?"
MORE: Dildo demo on the quad – just another day on campus
Each day of Real Sex Week featured a theme taken from these questions.
Though the week's events were met with little criticism after the flyer vandalism, some of the conversations brought forth disagreement, particularly on pornography – but that was the point, to encourage open discussion, according to Turner.
She said the most successful event of the week was tabling on Tuesday and Thursday for the pornography and sexual assault discussions. This provided an opportunity for students to write their thoughts on a "wall."
Turner said the series of events was important to her and her social group, many of whom have struggled with issues addressed in the series.
"I believe that our education on these topics is still too limited and the stigma around these topics seems to prevent many people from talking about it," she said. Her peers want "authentic conversations about the struggles they have experienced."
And while it would be "more than a reach" to think one week of events will change the "cultural mindset" on campus, "we hope this will make people think and talk," Turner said. "Discussion and recognition are the first steps of change."
MORE: This student taught campus feminists what a real 'sex week' looks like
Like The College Fix on Facebook / Follow us on Twitter
IMAGES: USC Students for Life