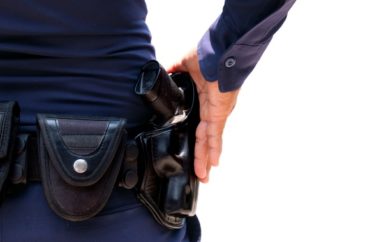 Well over half of Democrats oppose letting teachers carry firearms
A new poll by Virginia Commonwealth University shows that residents of Virginia are mostly split on the question of whether or not to arm teachers in the state, with more residents opposing the idea by about two percentage points.
The poll, commissioned by the university's Wilder School Center for Public Policy, showed that "47 percent of Virginians are strongly or somewhat in favor of training while 49 percent are strongly or somewhat opposed," the university reports.
That number is much more lopsided when adjusting for political affiliation. Nearly three-quarters of Republicans polled said that they were strongly or somewhat in favor of the proposal; 70 percent of Democrats, meanwhile, were at least somewhat opposed, with nearly 60 percent being "strongly" opposed. Nearly 60 percent of Independents were against the measure.
Responses also varied by region. Respondents from Northern Virginia—a heavy Democratic stronghold in close proximity to Washington, D.C.—were more opposed than those from the western part of the state.
From the report:
The poll also showed that, when asked to weigh the most important of two goals for local authorities managing public assemblies — maintaining public safety by restricting guns and firearms or maintaining the freedoms of those assembled, including the right to bring guns — 62 percent said maintaining public safety was more important, while 28 percent said maintaining the freedoms of those assembled was the top concern
Last year the school board in Lee County, Virginia, voted to allow trained and qualified teachers to carry firearms on school grounds. The superintendent of the school said the community reaction to the proposal was "generally very supportive." Lee County is in the extreme southwestern part of the state, where VCU's poll indicated support for arming teachers was higher.
MORE: Sheriff's department trains university employees to carry firearms
Like The College Fix on Facebook / Follow us on Twitter