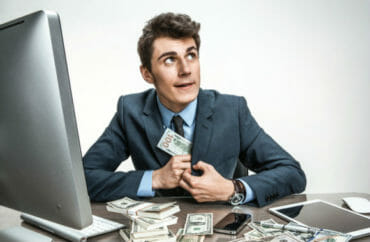 Not just because 'Evergreen is run on the PC Bible'
BELLINGHAM, Washington – Evergreen State College has drawn harsh scrutiny this year for racial activism against two white professors, but it's also hiding financial improprieties, according to a recently departed employee.
Michael Radelich, who left the Washington state public college earlier this month, told The College Fix the Writing Center had been using financial aid money intended for students to hire non-student workers.
He served as a learning resource specialist as well as record keeper for the Writing Center, where he worked for 14 years, and said he raised his concerns multiple times before leaving the school – and again in his exit letter.
"I would do payroll, pay the tutors, time sheets and record everything we spent," Radelich said in an interview near Western Washington University.
Radelich's departure follows that of Bret Weinstein and Heather Heying, the husband-and-wife biology professors who received $500,000 from the college to settle their lawsuit alleging that it failed to protect employees from "hostility based on race, as well as threats of physical violence."
Other departures since Weinstein's campaign against the racially tinged "Day of Absence" include Evergreen's police chief Stacy Brown, women's basketball coach Jennifer Schooler, and just last week Rashida Love, director of the First Peoples Advising Services.
Love's emails with Weinstein about the Day of Absence helped provoke the racial protests that engulfed the quirky liberal arts school this spring.
'There was no oversight'
According to documents given to The Fix by Radelich, the Writing Center spent 73 percent of its budget on items other than student salaries during the 2016-2017 academic year.
Of that amount, 55 percent was spent on non-student temporary assistants and 18 percent on non-student elements of Inkwell, the annual magazine it produced.
The Writing Center has five temporary workers, four on the main campus in Olympia and one on a satellite campus in Tacoma, according to notes taken by a union official during Radelich's Oct. 17 meeting with David McAvity, the dean of academic budgeting and space. All served in assistant roles for Director Sandra Yannone.
One assistant worked on Inkwell and did not tutor anyone. Two others acted as administrative assistants to Yannone and occasionally tutored. Another acted in an "anti-oppression" position, which helped train tutors. They all worked 19 hours a week.
The Writing Center's page for Inkwell says the magazine is "written and edited by peer [student] tutors."
MORE: Students harass white professor for refusing to leave on 'Day of Absence'
According to the exit survey that Radelich filled out and submitted when he left, "the college's financial policy makers" told Yannone (inset) "every year" that she needed to spend at least 90 percent of her budget on student salaries.
"She was always told you can't be hiring temporary workers that are paid with student funds. There was no oversight from stopping her from doing that," Radelich said in the interview near WWU.
Though Yannone has been told for 16 years to stop spending the way she is, nothing has changed because the deans change every couple of years, according to Radelich. He did not specify which dean positions kept changing.
It was not uncommon for non-student workers to be working at the Writing Center for two to four years, consuming much of the budget reserved for student workers, according to Radelich, who notes he has a doctorate in his exit letter.
'She was repeatedly told about her improper spending of state funds'
The previous academic year was not the first time the Writing Center had allegedly overspent its budget on non-students. Ever since the 2012-2013 academic year, according to Radelich, the Writing Center has spent between $21,000 and $28,000 a year on producing the Inkwell magazine.
To illustrate, in 2013 Radelich became the designing editor of Inkwell "because no tutor had stepped up to do so," he wrote in the exit letter. His five-and-a-half months of work in this position, which took up about 90 percent of his work week, cost the school $10,000, but after he finished, Yannone "scrapped my completed design," Radelich wrote.
In addition, two tutors were hired as general editors of the magazine at a cost of $5,000, but were removed when only one out of 14 essays was edited on time, "due to Sandy's non-supervision," he wrote in his exit survey.
A new general editor was hired to replace the two previous ones, which cost the school another $2,000. Another $2,000 was spent on tutors who were "not tutoring but on the Inkwell board," Radelich wrote in his exit survey.
Including the $5,000 the Writing Center spent to print the magazine, the total cost for Inkwell that academic year came to $24,000 out of the Writing Center's $96,000 budget, according to Radelich's exit survey.
MORE: Evergreen State buys off embattled profs for $500,000
"I cannot any longer be a part of an office that blatantly disregards the financial policies of the college," Radelich (inset) wrote in the exit letter:
Sandy's blatant inattention to the proper spending of funds, her careless mishandling of funds, and her ignoring of directives from the college's financial managers led to years and years of stressful conversations between us. She was repeatedly told about her improper spending of state funds around the issue of hiring so many temporary workers. As the Center's bookkeeper, I continually worried about her complete disregard for managing the Center's budget.  I spoke repeatedly with Sandy about this financial disregard, to no avail—nothing has changed.
Yannone "was terrible with money and breaking the law by hiring tons of part-time people and not students," Radelich told The Fix in an earlier phone interview.
It wasn't just the alleged financial mishandlings that drove Radelich out of Evergreen State – it was the general atmosphere of the campus, where Weinstein's high-profile clashes with student racial activists drew national attention.
"Evergreen is run on the PC Bible, and it is a Bible that keeps being rewritten all the time," Radelich said.
Radelich thanked Dean McAvity in a Nov. 5 email for the meeting in October to discuss financial improprieties. He said "it has not been easy to get the college to listen to my concerns over the past years," and noted he was "following up this issue with other people and outside agencies."
The Fix sought comment on Radelich's allegations and documents multiple times from Yannone and Zach Powers, the college's communication and public relations manager. They did not return emails the week before Thanksgiving or phone calls Nov. 20 and 21.
Outgoing Evergreen State College employee alleges financial improprieties in his exit survey by The College Fix on Scribd
Quote by black lawyer created 'toxic learning environment'?
One of the final straws for Radelich was the rejection of his Oct. 4 email message from the "All Staff and Faculty" designated list, which was changed to a moderated listserv two days earlier.
His message was in response to Adam King, a former computer science professor at Evergreen who used the listserv to announce he was quitting because the school is "clearly in the hands of a cabal." Radelich offered his support to King, Weinstein and others.
Between Radelich turning in his resignation letter Oct. 13 and his final day Nov. 1, other incidents confirmed in his mind why he was leaving.
He told The Fix that Dean of the Library Greg Mullins told Radelich Oct. 23 to pull this quote by a black lawyer down from his office:
Do I talk about race at the office?

No, I am too busy working, which is the best tribute I can pay to Dr. King and all the people who sacrificed to get me, a black man, here in America, free of the relics of the past.
Radelich, who is white, told The Fix that Mullins said that quote was creating a toxic learning environment.
On Radelich's last day, he said he learned that his boss was seen trying to get into Radelich's office to take down an op-ed that calls the University of Chicago's Robert Zimmer the best university president in America.
According to Radelich, his decision to leave was seen as unremarkable. "Anyone I told that I was leaving, I said, 'I can't take it here,' and they just said 'I understand.' No one questioned it," he told The Fix.
MORE: Evergreen State cracks down on 'toxic' email forums
IMAGE: RomarioIen/Shutterstock
Like The College Fix on Facebook / Follow us on Twitter