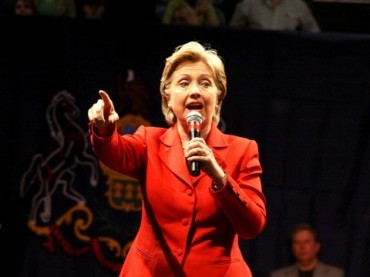 An Army veteran who dared turn his back on then-Secretary of State Hillary Clinton during her February 2011 speech at George Washington University – prompting his arrest by campus police – has now filed a lawsuit, claiming he was "forcibly and falsely" hauled off to jail.
The federal lawsuit, filed mid-February in Washington D.C., names the U.S. State Department and George Washington University police as defendants. It seeks to have Army vet Raymond McGovern's arrest expunged from the records, as well as compensatory damages.
The Partnership for Civil Justice Fund, which represents McGovern, states on its website that the circumstances surrounding the arrest were marked with "stinging irony," as McGovern was "brutalized and arrested after peacefully standing with his back to Hillary Clinton" as she was giving a speech in which she condemned oppressive regimes.
According to the lawsuit, as Clinton was in the midst of "admonishing other governments that they should not arrest protestors and suppress free expression and dissent …McGovern, an audience member, engaged in a peaceful display of dissent against Secretary Clinton's war policies and intervention in the Middle East by standing silently with his back turned towards Secretary Clinton while wearing a t-shirt with the words, 'Veterans for Peace.'"
"As Secretary Clinton was reading from her prepared remarks regarding Egypt's dictatorship saying, 'Then the government pulled the plug,' the then-71-year-old McGovern was forcibly and falsely arrested by GWU police officers, grabbed by the head, assaulted, and as Secretary Clinton continued undisturbed stating, 'the government … did not want the world to watch'… McGovern was removed from public view with excessive and brutal force, taken to jail, and left bleeding with bruises and contusions."
Law enforcement officials, in a State Department memo, have their own version of events, saying: "McGovern disrupted a speech … by standing in the middle of an auditorium with his back to the stage, blocking the view of other audience members and the press. He refused to leave the venue and was forcibly removed by GWU police officers and taken into custody by the DC Metropolitan Police Department."
McGovern – a 27-year CIA expert – was subsequently investigated for nearly seven months before the State Department ultimately dropped all charges and determined that he was not engaged in any criminal activity.
McGovern is described in the federal civil rights lawsuit as someone who "wrote for the president's daily brief under Presidents Nixon and Ford."
"From 1981 to 1985, he personally briefed this publication in the morning one-on-one to Vice President George H. W. Bush, the Secretaries of State and Defense, and other senior officials of the administration of Ronald Reagan," it states.
The lawsuit, filed three years to the day of McGovern's arrest, also claims it was unconstitutional that McGovern was put on a BOLO ("Be On the Look-Out") list following his arrest due to "political activism, primarily anti-war."
Carl Messineo, legal director of PCJF, said in a statement that the State Department "carried out a purely political investigation" and that putting McGovern on the BOLO list was in "clear violation" of his First and Fourth Amendment rights.
GWU police did not respond to a request for comment by The College Fix.
College Fix contributor Andrew Desiderio is a student at The George Washington University.
Click HERE to Like The College Fix on Facebook / Follow us on Twitter – click HERE
IMAGES: Inside-The Partnership for Civil Justice Fund; Main- Penn State