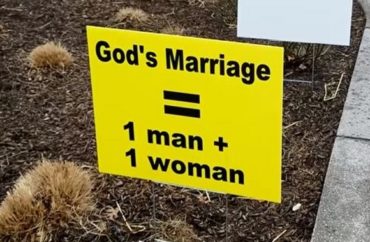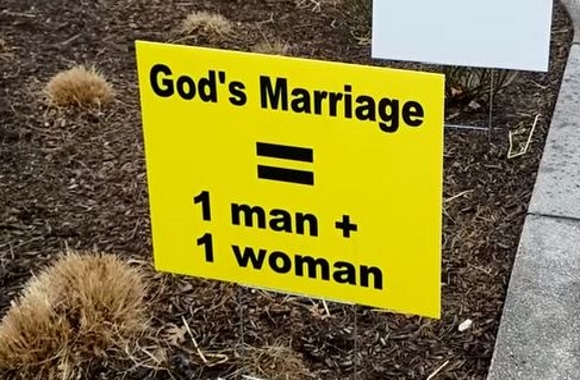 Trashed, removed within minutes
It was a novel concept: Put up signs that state "God's Marriage = 1 Man + 1 Woman" on a Catholic university campus and see how long they last.
Turns out, not long at all.
TFP Student Action, a national proactive network of Catholics, recently placed the pro-traditional marriage signs at five Catholic colleges: Loyola University Maryland, Georgetown University, Notre Dame of Maryland University, Villanova University and St. Joseph's University.
At every single campus, the signs were quickly removed, trashed or vandalized — literally within minutes — mostly by students but also by apparent faculty or staff, a video of the effort shows.
The signs were put up during March and April, said John Ritchie, director of student action with the group, in an interview Monday with The College Fix.
"When the sign went up … the reaction was immediate," Ritchie said. "I don't think one lasted more than 10 minutes."
At some campuses, TFP members would later put up a pro-gay equality marriage sign. Those remained untouched, according to a news release from the group.
"Just the sight of the name of God and God's plan for marriage is considered intolerable by students who think tolerance is a dogma," stated 23-year-old Matthew Miller, a TFP volunteer who oversaw the project, in the news release.
At Loyola University Maryland, the signs were put up directly in front of the Catholic Church on the campus. Five minutes and 23 seconds later, they were taken down.
Miller said he asked the school about it and officials there replied that they don't allow signs of any kind. Yet later, Miller said he put up the pro-gay marriage equality equal sign in the same place, and no one took it down.
"A lot of parents think that just because it's a Catholic university they will be getting a solid formation in Catholic teaching," Ritchie said. "The reality is different. Sometimes kids will go in believing in God or supporting marriage and supporting the right to life, and when they graduate they are much more liberal."
"The point is," Ritchie said, "something needs to be done, otherwise the faith will be lost."
MORE: Vandals Deface, Throw Away Pro-Life Display at George Washington University
Like The College Fix on Facebook / Follow us on Twitter