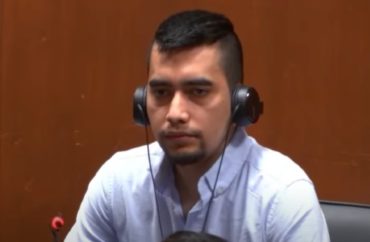 Convicted killer said that 'two masked men' actually killed her
An illegal immigrant has been convicted in the 2018 murder of University of Iowa student Mollie Tibbetts.
"Cristhian Bahena Rivera was convicted of first-degree murder Friday, nearly three years after Mollie Tibbetts disappeared while jogging near her Brooklyn, Iowa, home," the Des Moines Register reported.
The University of Iowa student had went running in July 2018, only to be found a month later in a cornfield.
The sentencing hearing has been set for July 15 and Rivera faces life in prison.
The illegal immigrant claimed "he was kidnapped by two masked and armed men, who forced him to drive to where the 20-year-old University of Iowa student was jogging and that one of them killed her and put her body in his car's trunk," according to ABC News' summary of his testimony.
Rivera lived on a farm owned by Craig Lang, a Republican politician and a president of the Iowa Board of Regents, which oversees public higher education institutions.
Lang's company said Rivera used false documents to pass an immigration verification check, according to since-deleted comments quoted by Heavy.com.
For 34 days, investigators searched for 20-year-old Mollie Tibbetts. Yesterday, an illegal alien, now charged with first-degree murder, led police to the cornfield where her body was found.

The Tibbetts family has been permanently separated. They are not alone. pic.twitter.com/BBskwHEJoU

— The White House 45 Archived (@WhiteHouse45) August 22, 2018
Republican politicians, including President Donald Trump, used the murder as an example of why stricter immigration enforcement was needed, during comments at the time.
However, some of Tibbetts' family members made comments that she would not have wanted her death politicized.
"I know enough about Mollie to know her political standings and that she would NOT want this to be used as fuel against undocumented immigrants," Samantha Lucas, a cousin of Tibbetts', told the Huffington Post. However, Lucas said she was "not close" to the slain student and "as speaking only for herself and not as a representative for the family," the publication said.
MORE: Purdue posters blaming open borders for Tibbetts' death causes a flap
IMAGE: KCCI/YouTube
Like The College Fix on Facebook / Follow us on Twitter