'We didn't ask for any of these new positions'
The University of Missouri's deluge of new diversity positions and training is drawing criticism from an unexpected source: campus diversity activists.
Even though the black protest group Concerned Student 1950 had demanded the hiring of more diversity administrators, students at the "Racism Lives Here" rally Thursday said they don't want those positions.
What they do want wasn't clear at the noon rally at Mizzou's Lowry Mall, which included Concerned Student 1950 supporters.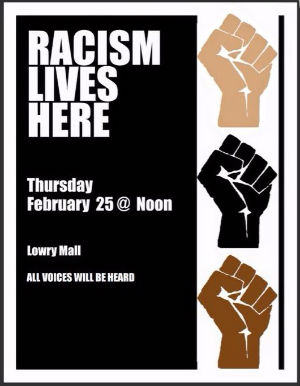 "We stand in solidarity to say that we are not afraid and we will support each other until we see the action that we're asking for," said graduate student Danielle Walker. "Cause we didn't ask for any of these new positions."
"We didn't ask for these committees," another student added.
"We didn't ask for any new division," said Walker. "We have told through many different outlets … what we want on this campus and it still continues to fall upon deaf ears of our administration."
RELATED: Mizzou's Melissa Click says she feared student journalist had a gun
Student Andrew Abarca told The Maneater: "I'm used to people threatening and saying all these things, but I would love to see the administration start taking action, not creating diversity positions or creating this faux diversity requirement, which really isn't a requirement at all."
Concerned Student 1950 insisted the university hire more personnel for "social justice centers" in its list of demands in October, "for the purpose of hiring additional professionals, particularly those of color, boosting outreach and programming across campus, and increasing campus­wide awareness and visibility."
A barrage of inclusion – and another hire coming Sunday
The university has seen several new additions since November when System President Tim Wolfe resigned over the demands of Concerned Student 1950.
The day after Wolfe's resignation, the Mizzou law school's associate dean for academic affairs and trial practice, Chuck Henson, was appointed interim vice chancellor for inclusion, diversity and equity. His position had been created by the Board of Curators the day before.
RELATED: Melissa Click fired by University of Missouri for harming 'rights of others'
Former Mizzou football player and strength coach for the athletic department Pat Ivey was added as Henson's assistant vice chancellor Feb. 15.
In December Mizzou created the Office for Civil Rights and Title IX to centralize discrimination investigations.
The University of Missouri System expects to select a chief diversity, equity and inclusion officer by Sunday, The Maneater reported.
Henson created "The Working Group" under the Division of Inclusion, Diversity and Equity, but its first meeting Feb. 17 was poorly attended by student leaders, Association of Black Graduate and Professional Students parliamentarian Brittani Fults told public radio station KBIA.
For their part, protesters say people of color are "not optional," and that their work is not done.
"For some of us, this is the only home we have," said Walker, the graduate student at Thursday's rally. "And to feel unwelcomed everyday is an emotional burden that I wouldn't even wish upon my worst of enemies."
RELATED: Governor candidates promise to clean house at protest-plagued University of Missouri
RELATED: Missouri system president resigns to quell black students' rage, end hunger strike
Like The College Fix on Facebook / Follow us on Twitter
IMAGE: Dear White People