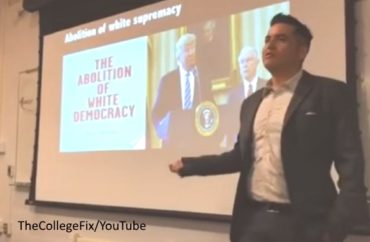 A political science professor recently told students they should be "violating" the country's laws to combat white supremacy, comments that were recorded and have since gone viral.
Diablo Valley College Professor Albert Ponce's comments were couched in a guest lecture he gave for the school's "Social Justice Lecture Series." He is listed as a faculty member at the Northern California community college, located near San Francisco.
In his lecture, "White Supremacy in the U.S.," Ponce discussed how slaves were controlled by laws in America's history.
"And that's the beauty of the law," Ponce said. "If you can write it, you can convince all others to follow it, just like all of us do today — when we shouldn't. Many of the laws existing, we should be violating those laws."
Ponce, in his lecture, did not clarify what laws he meant, and went back to discussing what he contended is Thomas Jefferson's belief that black people are inferior to whites, the video shows.
Ponce did not respond to The College Fix's request for comment. Campus officials on Wednesday told The Fix they would provide a statement, but have yet to do so.
Although Ponce's talk was innocuously filmed and posted on YouTube in late October by the Diablo Valley Inquirer, the student-run newspaper, the Oct. 26 lecture generated controversy over the last three weeks after snippets of it were highlighted by The Red Elephants, a conservative website and YouTube channel.
As part of his talk, Ponce stood before a photo of President Donald Trump and Attorney General Jeff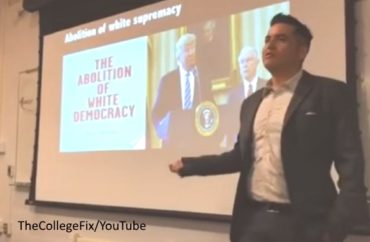 Sessions with a portrait of President Andrew Jackson behind the politicians and told his audience: "It is fitting that a white supremacist of old and a white supremacist of today exist and sit — they're smiling — in the White House."
"So what can we do, what is to be done," he asked.
Ponce went on to suggest efforts such as writing lawmakers are futile because "they are part of the system." He continued that the solution lies in "practicing abolition." The image behind him, in big red letters next to Trump, stated "the abolition of white democracy."
"Abolition means we must destroy it, not reform it," Ponce said. "No voting's going to help. No writing your congressperson. We need to smash white supremacy at every institutional level in this country, beginning at the local space, at the state, at the federal system, and build something new. And that's frightening. Because we don't know what is to come."
"There will be repression," Ponce continued. "Yes, that always happens. But those who are willing, not only to take a knee, that's just the beginning, that's just a symbolic, peaceful gesture. It's going to take a lot more work."
Students were apparently offered extra credit to attend the presentation.
"I hope the extra credit is worth it," Jackie Lorenz, director of community education, said in her opening remarks, the video shows.
The political science professor's remarks also include him saying the U.S. Constitution is a "white man's constitution" and calling Karl Marx "one of the most profound thinkers in the history of Western philosophy," according to Campus Reform.
Ponce had launched the talk by saying: "So we begin with the fact that we exist in a white supremacist, patriarchal, heteronormative, capitalist system."
As he discussed Jefferson, Ponce alleged the Constitutional framer raped "many" of his slaves and added "the state has socialized us into the state of glorifying" figures like Jefferson.
MORE: Professors call Founding Fathers 'terrorists,' founding ideals a 'fabrication'
The lecture sparked outrage after The Red Elephants highlighted the remarks as part of its new campaign aimed at exposing "marxist" professors.
The Red Elephants reported that a Diablo Valley College student was the one who alerted it to Ponce's October lecture. In an email from the student published by the conservative website in late December, the student alleges Ponce "grades students down and fails them if they don't agree with him" and "is known to encourage violence and tells his students that it is necessary for change."
In its own YouTube video highlighting portions of Ponce's lecture, The Red Elephants' Vincent James called the professor's remarks "deeply radical rhetoric."
The video of Ponce's lecture has been viewed more than 263,000 times and shared more than 1,500 times after being posted on the campaign's Facebook page in late December.
"The inspiration behind the creation was constantly seeing professors push anti-white male and anti-christian rhetoric in classrooms while praising Marxist and Post-modernist ideology," The Red Elephants said of the new campaign in an email to The Fix.
On its Twitter account, The Red Elephants said it has received several submissions so far for its "Film Your Marxist Professors" campaign.
"You can either stand around, complain about how 'the system is against you' or you can actually stop whining and get out and do something," the tweet said.
MORE: Controversial 'Problem of Whiteness' course reintroduced at UW-Madison
Like The College Fix on Facebook / Follow us on Twitter