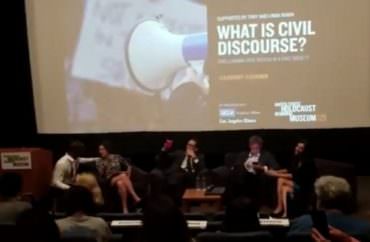 Anti-fascist agitators successfully disrupted and effectively shut down a panel discussion Tuesday night at UCLA focused on civil discourse after hijacking the question and answer portion of the event and forcing it to relocate.
Panel members told The College Fix they were "appalled" and disappointed over the protest, the latest in a string of incidents in which agitators have shut speaking events on college campuses this semester.
The incident on Tuesday came at a panel discussion titled "What Is Civil Discourse? Challenging Hate Speech in a Free Society." The event, held in a UCLA auditorium, was hosted by the university, the Los Angeles Times and the U.S. Holocaust Memorial Museum.
Speakers included the U.S. Holocaust Memorial Museum's Edna Friedberg, UCLA law professor Eugene Volokh, Los Angeles Times Deputy Editorial Page Editor Jon Healey and Rachel Brown, executive director of Over Zero.
"So as soon as the Q&A portion of the evening opened, a young woman with Refuse Fascism took the microphone and started ranting about Trump, supported by cohorts who chanted slogans at the top of their lungs," Healey wrote on Facebook. "Chaos ensued, and a diminished (and somewhat dispirited) version of the Q&A resumed in a different meeting room nearby."
MORE: Black Lives Matter protesters shut down ACLU free speech event
Video footage posted on YouTube shows a female demonstrator standing at the microphone and accusing the event's speakers of "not dealing with the reality" of the Trump administration and urging the audience to "organize ourselves to create a political crisis to get this fascist regime from power."
As she continued, she said "yes, you can take me out of this room, but I'm not going to shut up." As security attempted to remove her, the protester claimed "we can't normalize fascism" and called on those who agreed with her to stand up and hold up their fists.
"Come on, stand up because this is what the good Germans were facing. This is what the people in Nazi Germany were facing," she said.
The other protesters joined in on the shouting and yelled "no Trump, no KKK, no fascist USA" as one of the speakers attempted to speak.
The protesters later yelled "Trump and Pence must go" as one audience member retorted "shut the fuck up."
The demonstrators continued shouting as an organizer said "we want to have a civil conservation" and shortly after, it was announced the event would be moving to a room across the hall.
In his Facebook post regarding the incident, Healey said it was clear the small group of protesters — which he estimated totaled around five — "didn't want a discussion. It wanted attention."
He told The College Fix in an email that "it was disappointing" the protesters interrupted the event.
"There's a good discussion to be had on speech issues, but folks have to be willing to listen in order to have one. And shutting down the Q&A was particularly disrespectful of the people who went out of their way to attend (and the U.S. Holocaust Memorial Museum, which went to some lengths to put it on)," Healey said.
MORE: Charles Murray event disrupted by chanting, hostile protesters
Meanwhile, Volokh told The Fix he was "appalled" by the protest but noted such incidents are becoming a trend.
"But I suppose it's the new normal on campuses — not just for events organized by what one would have thought were 'controversial' or 'extreme' or even conservative groups, but for events (such as this one) organized by the Holocaust Museum, UCLA, and the L.A. Times," he said.
Andrew Litt, a UCLA law school graduate who attended the event, told The Fix it's ironic that the protesters shut down a talk on hate speech.
"These hecklers aren't disrupting a Milo Yiannopoulos or Ann Coulter talk. If anything, the presentation had a left-leaning tilt to it," he said.
More than half a dozen speakers have been shut down or interrupted by protesters this semester on college campuses. Protesters forced the cancellation of a Republican legislator's speech at Texas State University earlier this month and on Oct. 11 demonstrators at the University of Michigan interrupted libertarian scholar Charles Murray during a talk he gave at the public university.
MORE: Documents reveal GOP speech unfairly shut down at historically black college
Like The College Fix on Facebook / Follow us on Twitter