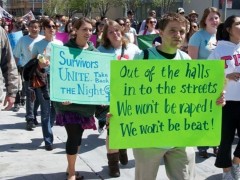 Check for cameras before you bed someone in the dorms: Video evidence is on the rise when students are accused of sexual assault.
The ABA Journal reports:
John Banzhaf, a law professor at George Washington University, researched dozens of cases of rape defendants successfully suing to repair their reputations, with evidence increasingly consisting of video introduced to show that the woman actively cooperated in the sexual encounters. "Changes in technology make video recording more effective and readily available," Banzhaf explains. "It's cheap, easy to hide, and the cameras shoot well in low light."
Video evidence led to dropped gang-rape charges against two college students in New Mexico "after they turned over video of the reported victim giving lap dances in her underwear and grabbing a man's crotch," the Journal said.
Though surreptitious video recording in "nonpublic places" is illegal in California, where the "yes means yes" law just took effect and puts the onus for consent on the sex initiator, it's
legal in a majority of states, provided the footage doesn't contain audio (which can trigger wiretapping statutes), Banzhaf says. But, he adds, even if it were illegal, some men consciously decide that they'd rather be charged with the less serious crime of illegal video recording than felony rape.
Read the full Journal article here. For more from Professor Banzhaf, including the rise of hacking in response to rape accusations, see this press release.
Like The College Fix on Facebook / Follow us on Twitter