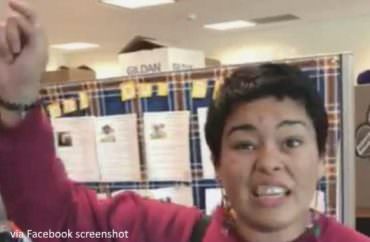 UPDATED
Our fall fundraising campaign runs through Sept. 30, so please consider a tax-deductible donation of any amount to help us continue to publish the best campus news in the nation. Thanks for your support!
A nine-minute video posted on Facebook today by University of California Riverside student Matthew Vitale shows him trying to get his bright-red Make America Great Again hat back from an identified peer who goes on a lengthy tirade against free speech and America itself.
"UCR is letting people wear this shit on campus? Make American Great Again, really? There were lynchings and genocide and mass deportations. … I fucking hate this country. … And I am not leaving. … We need to get rid of all ya'll," the video shows her say.
"… Fuck your freedom of speech boy, your freedom of speech is literally killing a lot of people out there, your hats like these that promote laws and legislation that literally kill and murder people of color," she continued.
The video shows her verbally berate Vitale, a member of the College Republicans, as she walks into a student affairs office and demands he not be allowed to wear it on the public campus.
"Give me my hat, that's all I want is my hat back," Vitale says. "I paid for that. I bought it. It is mine."
"You are recording me like I'm the criminal here," she replied. "Your ancestors stole this land. … I could burn this shit right now. … How about we talk about not letting people wear this shit on campus?"
"How about we talk about freedom of speech, something people fought and died for," Vitale responds.
A staffer in the office at one point interjects and tells the student she needs to return the hat to Vitale, but she refuses to comply at first.
"We are really trying to fight genocide from happening," she said.
"Give me my property and I will leave and go back up to the retreat," says Vitale, referring to a campus event at which she spotted him wearing the hat in the first place.
"The reason why this is pissing me off is you wore it in a group where literally most of the organizations in this school are people of color," she replies.
"I am half-Nicaraguan," Vitale responds.
"You're a fucking white boy," she says back.
"Are you assuming my race?" he asks.
"You pass as a white man," she continues.
"I am half-Nicaraguan, you are assuming my race here. All I want is my property," Vitale continues.
The back and forth continues, including with what sounds like a veiled threat, with her telling Vitale he's lucky they are on campus.
Eventually, the staffers convince the female to hand over the hat and talk to someone to calm down, the video shows. She leaves the office upset, and Vitale is given his hat back.
Vitale could not immediately be reached for comment Thursday by The College Fix.
In his Facebook post, Vitale notes: "This is the face of the modern left. They are people who think they are better than you, think they know better than you, and think they can make decisions for you. People like this are what universities across America are putting out into this world."
In an emailed statement to The College Fix, a UC Riverside spokesman said: "The unfortunate incident that was recorded and shared on social media does not conform to UCR's Principles of Community. Federal privacy laws prevent the University from commenting on student conduct matters but UC Riverside stands by its deep commitment to freedom of expression, civil discourse, and respectful interactions within our community."
Editor's note: The article was updated to add a statement from UC Riverside. 
h/t: Campus Reform
MORE: Students at black college express fury as white girls wearing MAGA hats tour campus
Like The College Fix on Facebook / Follow us on Twitter