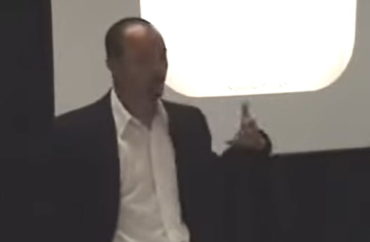 UC Berkeley scholar's old lecture resurfaces and prompts criticism, debate
"That's why I am coming up with this recent understanding that to abolish whiteness is to abolish white people. That's very uncomfortable perhaps, but it asks about our definitions of what race is and what racial justice might mean."
That 42-second clip of a talk from 2007 given by Zeus Leonardo recently took center stage on social media among leading national critics of critical race theory.
Professor Leonardo teaches within UC Berkeley's Graduate School of Education, which helps educate future teachers. He is also one of the school's associate deans and is considered a leading critical race theory scholar.
"Much of the poison in today's K-12 schools can be traced directly to schools of education, which push crackpot theories like this on America's future teachers," said Nicole Neily, president of Parents Defending Education.
"This is further proof that our country's system of teacher training and accreditation is desperately in need of an overhaul," said Neily in an email Tuesday to The College Fix.
The 2007 talk resurfaced earlier this week and is gaining hundreds of thousands of views on Twitter after it was shared by Rhyen Staley, a researcher with Parents Defending Education.
He shared the clip as well as Zeus' full talk as part of his Twitter thread, as well as highlighted another snippet in which Zeus asked: "Is it worth it for white women to be white anymore?"
UC Berkeley School of Education professor Zeus Leonardo states in a video from 2007 that "To abolish whiteness is to abolish white people" pic.twitter.com/YEZPpNornX

— Rhyen Staley (@DunedainRanger9) February 26, 2022
The clip was reshared by well-known critical race theory critic and Manhattan Institute senior fellow Christopher Rufo.
Zeus' 45-minute talk was given to the Centre for Culture, Identity and Education at the University of British Columbia in September 2007 and titled "Teaching Whiteness in a Multicultural Context and Color-blind Era," according to its YouTube page.
"In this presentation, Dr. Leonardo explores the critical theme of whiteness, appraising the conceptual and strategic understanding of this concept through the prisms of white reconstructionism and abolitionism," the description states.
Leonardo is no stranger to teaching on critical whiteness theory.
As The College Fix reported last fall, Leonardo gave a guest lecture at George Washington University in which he argued that children are born "human" and then are "bullied" into becoming white.
"They were born human," he said. "Little by little, they have to be abused into becoming white humans. This abuse is sometimes physical … such as being bullied into whiteness."
"But also it's psychological and cultural," he added.
Leonardo could not be reached for comment by The College Fix.
Jaquelyn Borcea, a student at UC Berkeley, said she is not surprised that the viral comments came from a professor at her school.
"Most students and faculty here have hardcore opinions on racism and widely preach critical race theory," Borcea told The College Fix. "Everything here is about race."
Borcea said "defaulting to hating on white people" is getting old. Instead, people should take accountability for their actions, not their race, she said.
"It's true that whites have a racist past, but it's time to move on from the past and blaming white people today is not going to solve anything. It's inherently more racist to judge someone based on their skin color rather than the content of their character," she told The College Fix.
Twitter users also sounded off on Leonardo's comments.
"Genocide. He's literally advocating for genocide and @UCBerkeley is okay with this. And people wonder why I no longer support the left," one user tweeted.
Another user tweeted, "We still gonna keep pretending CRT isn't explicitly anti-white?"
According to Leonardo's faculty bio, he "engages critical theories to inform his analysis of the relationship between schooling and social relations, such as race, class, culture, and gender."
Leonardo is also a member of UC Berkeley's Critical Theory Designated Emphasis program.
The College Fix reached out to UC Berkeley's media team but did not receive a response.
MORE: Children 'abused into becoming white humans': CRT expert explains whiteness theory
IMAGE: YouTube screenshot
Like The College Fix on Facebook / Follow us on Twitter