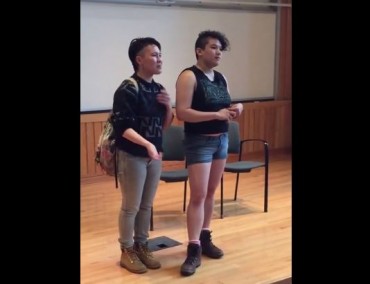 Conservative feminist Christina Hoff Sommers gave a speech last night at the uber-liberal Oberlin College, where she was met with posters calling her a rapist supporter, as well as rude, immature heckling from the crowd.
"[M]any in the audience were quite rude and frequently interrupted Sommers," reports Third Base Politics. "Many students sat in the audience with duct tape over their mouths, inferring that Sommers' mere presence was an attempt to silence them. Ironically, by labeling her a 'rapist supporter' and interrupting her, they were actually striving to silence her."
Told students that women could narrow wage gap by changing majors from, say, sociology to engineering.Room erupted.Horrified gasps & jeers.

— Christina H. Sommers (@CHSommers) April 21, 2015
During my talk a kindly philosophy professor stood up & urged students to be civil. He was jeered, mocked & crowd angrily yelled "Sit down." — Christina H. Sommers (@CHSommers) April 21, 2015
But the highlight of the event has got to be video of this announcement by two safe-space facilitators prior to the speech you have got to see to believe. It was taken by Third Base Politics, which notes the students mock with air quotes that some people in the audience attended "to hear both sides of the story."
These facilitators, who were announcing alternative spaces for those traumatized by Sommers' visit, also seemed to ridicule the fact that some students in the audience chose to attend the event, with one of them glibly saying "so take care of yourself, live your life, do your thing" as the other student chortles. (Clearly they knew many in the room supported Sommers).
Then at one point one of the safe-space facilitators actually turned their phone on the audience, appearing to possibly take video of the audience (way to make students attending a controversial event feel safe).
At the end of their little announcement, one of the safe-space facilitators joked: "Yeah, we are pretty cool, we only bite people we dislike, so …" as the other chuckled.
That wasn't a safe space announcement, that was a mini-lecture for students who dare question the college's leftist heterodoxy, mixed with a little sarcasm and mocking on the side.
Sommers, whose "Factual Feminist" YouTube videos are wildly popular, is a former philosophy professor and prolific author known for her critiques of feminism, including Who Stole Feminism: How Women Have Betrayed Women and The War Against Boys: How Misguided Policies Are Harming Our Young Men.
At end of my Oberlin talk several students quietly thanked me. Apologized profusely for audience jeering & mocking. http://t.co/vgw29XoqsM

— Christina H. Sommers (@CHSommers) April 21, 2015
Here is Third Base Politics' full report on Sommers' appearance.
Like The College Fix on Facebook / Follow us on Twitter