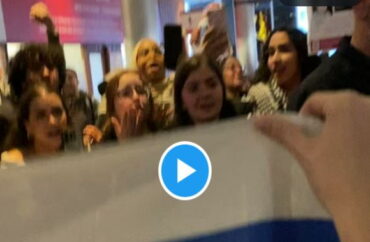 A table set up to honor Israeli hostages at Concordia University on Wednesday drew a heated and violent response by pro-Palestinian student protesters.
The display was set up group of Concordia University Jewish students who had sought to raise awareness about the more than 200 hostages held by Hamas terrorists. They were "confronted by an angry crowd that verbally and physically accosted them," according to the Centre for Israel and Jewish Affairs.
Videos posted on social media corroborate that account.
"The Jewish students had set up a table with posters of the hostages and other materials in a common area reserved for sanctioned student group activities, which this was. Jewish students were shoved, harassed, and faced a barrage of hate speech including racial slurs such as 'k*ke.' Security and police intervened to protect the students and restore order," the centre stated in a news release.
The Montreal Gazette reports that "a 22-year-old female student was arrested for assaulting a 54-year-old security guard. A 19-year-old security guard and 23-year-old student were also injured in the melee."
We've gotten to the point that police need to be called on Canadian university campuses (@Concordia) to protect the safety of Jewish students from "pro-Palestine" protesters.

Time for our politicians to start taking this seriously.
pic.twitter.com/ObX2qNUyYE

— Anthony Koch (@Anthony__Koch) November 8, 2023
Here, you can see "activists" taunting and threatening Jewish students with violence after a solidarity demonstration for the kidnapped in Gaza. One girl said, "We'll see you after class, be ready." pic.twitter.com/XlG9U6YHFX

— איתן (@YehudiGadol) November 8, 2023
Calling a Jew a k*ke is the not only the equivalent of calling a black student the n-word but it's the language of neo-Nazis.

This is not progressive it's hate very poorly guised as justice, the same way Jew hatred has always functioned. @Concordia pic.twitter.com/VCNt1POCW3

— YsabellaHazan (@ysabellahazan) November 8, 2023
"Videos circulated online show shoving matches between students and tense face-offs. Dueling chants are heard in the background as security guards scramble to keep people separated," the Gazette reported.
"In one video, students fight over what appears to be an Israeli flag near a table set up with posters calling for the release of hostages held by Hamas."
Commenting on the melee, Montreal's Mayor Valérie Plante posted on X: "Acts of violence such as those that affected Concordia students today and the attack on a synagogue yesterday are unacceptable."
"These hateful acts have absolutely no place in Montreal; a city of peace, security and kindness," she stated. "Each event will be investigated by the @SPVM, which will not skimp on the means to maintain the security of our metropolis. More than ever, we must resist violence, stay united and demonstrate for peace."
Gad Saad, a professor of marketing at Concordia University who has sounded the alarm on campus antisemitism, reacted on X by pointing out how the university handled controversy in the past.
"I try to never criticize @Concordia out of respect for my university but do you recall this summer when the university issued a press release disassociating themselves from my Quebec accent joke? This led to a three-week brutal hate campaign against me," he posted. "Yet Jewish students and professors feel utterly unsafe and yet…accent jokes are terrible!"
MORE: Yale is a 'campus without care' after hosting 'anti-Israel' event, Jewish students say
IMAGE: X screenshot
Like The College Fix on Facebook / Follow us on Twitter