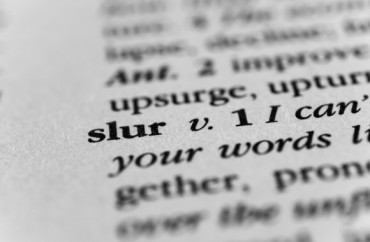 A member of Villanova University's student government allegedly used a racial slur against a black student early last month, which ultimately led to the individual's resignation.
In a post to its Instagram account, the Villanova Student Government Association stated the alleged culprit was put on a "leave of absence" November 3, and then quit the following day.
The post also included resources available to students who might have been affected by the slur ordeal.
Not only did the SGA not respond to the campus newspaper, The Villanovan, for further information on the story, it also did not reply to a more recent College Fix inquiry about what the now-former student senator specifically said.
A subsequent Villanovan story details the responses from the Black Student Union at the SGA's last public meeting. The BSU asserted the racial epithet was "representative of so much more" at the university than just an incident between two individuals.
ALERT: Check out our new Campus Cancel Culture Database!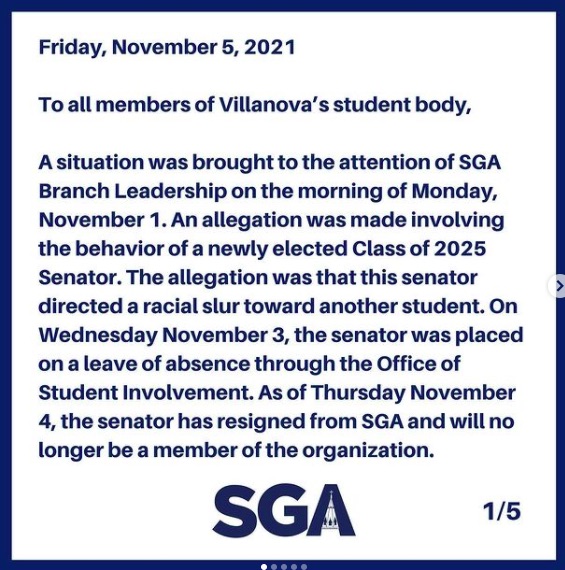 BSU President Mia Arrington claimed it "indicates greater institutional issues at Villanova and amongst predominantly white institutions in general."
Freshman BSU members Asata Mander, Reme Hart and Kentron White spoke up after Arrington, calling for more exposure to the issue and concrete action to address the community's perceived apathy towards the matter. Mander suggested that the SGA should increase vetting and educating efforts for electees to avoid another instance of apparent racism in student leadership.

White added that the Senate's supportive statements were a step in the right direction but stressed that words were not enough, asserting that it is the SGA's duty to push for strong disciplinary action in this case and broader change on campus.

"Take these words, take these feelings and truly work towards a better future here at Villanova," White said, addressing the Senate.

Sophomore Mia Bryant also brought up the issue of the resigned Senator's possible reelection in future years. She emphasized that they should not be able to hold such a leadership position again to discourage an environment that accepts this behavior on campus.
The SGA's Lauren Amoo told the BSU members that any additional disciplinary action against the former senator will be confidential in keeping with "standing University policy." She also said the SGA's "somewhat restrained public response" about the matter was due to the (alleged) victim's request for privacy.
SGA Vice President of Diversity, Equity and Inclusion Kristian Olvera noted the SGA began its "Diversity Chats," a "new [weekly] effort to cultivate open discussion about racial discrimination," shortly after the incident.
MORE: Villanova professor to give lecture justifying Antifa violence
IMAGE: Shutterstock.com; Instagram screencap/Villanova SGA
Like The College Fix on Facebook / Follow us on Twitter