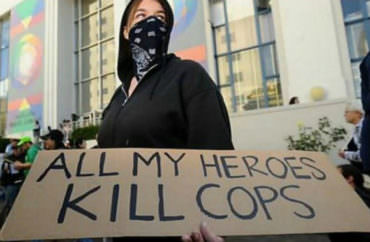 She'd never engage in violence but won't deny it to others
There's room for one more scholar justifying the political violence of antifascists against whomever they brand a white supremacist, right?
Villanova University's Billie Murray is giving a campus lecture April 24 titled "Reimagining Activism as Combative." As noted by Rod Dreher at The American Conservative, "It sounds like she is going to give a lecture on why antifa is right to beat people up":
In this presentation, Dr. Billie Murray will challenge the violence/nonviolence binary that limits our understanding of activist practices. Drawing on examples from her fieldwork with anti-fascist activists, she will argue that we should reimagine activism as combative. Such an expanded understanding will allow us to better discern the efficacy and ethics of combative tactics and how they work in concert with traditional, nonviolent activism.
Lest you think this is a distorted outlier of Murray's work, the communication professor and "rhetorical activist scholar" has mixed her paper trail with activism against "white supremacists and other hate groups." The University of California Press is planning to publish her forthcoming book on her blend of academia and activism.
.@VillanovaU professor Billie Murray and @GeorgetownLaw's @arjunsethi81 joined Vox's Consider It with @feministabulous and @Shermichael_ to discuss hate crimes and what action we can take to prevent them from happening in the future. https://t.co/4b5AZj9d3D pic.twitter.com/TXhR4SP2dc

— Villanova University Media Relations (@VillanovaMedia) December 6, 2018
Her embrace of political violence sounds like the abortion-rights supporter who claims she would never get an abortion. Dreher notes a Chronicle of Higher Education profile of Murray last year, where she said "I draw the line at engaging in violence" but went on to excuse violence:
"The way [antifa thugs] understand what they do is that lighting a trash can on fire or smashing a Starbucks window encourages a group like the Proud Boys to treat antifa as the enemy rather than going down the street and beating up a Muslim or Jewish person," she says. …

Although Murray sympathizes with the goals of antifa, she says she does not dress in black, destroy property, or punch Nazis, a reference to a blow to the face that a protester landed on Richard B. Spencer, a white-nationalist leader, during Inauguration Day protests in 2017. "I stand back and observe that," she says. "I don't need to be in their way."
MORE: Pro-antifa violence professor is giving book proceeds to antifa
She explicitly favors gutting the First Amendment in response to the Charlottesville white nationalist rally in 2017, she told Vice News shortly after that incident, a change from her prior view that the best way to deal with "a white power rally has been to quarantine it and choke it of the attention."
Murray wants to make America more like Europe, where anything deemed by the authorities as "hate speech" is punishable. In the Trump administration, that would disproportionately fall on speech embraced by her own side.
Her views are in line with her Catholic university, which is asking students to rate their professors for their perceived "sensitivity" and commitment to "diversity and inclusion."
2/ Before it's too late, sane and honorable conservatives and sane honorable progressives need to unite around the conviction that we resolve our differences not by violence but by the constitutionally prescribed mechanisms of our republican democracy.

— Robert P. George (@McCormickProf) April 16, 2019
Dreher writes:
To be sure, Billie Murray has a right to speak her mind. But everybody should know that Villanova University is sponsoring a professor who is going to give a lecture advocating resolving political conflicts through street violence. What if a right-wing professor scheduled a lecture to argue for why right-wingers should beat peaceful left-wing demonstrators up? Imagine that. You can't imagine it, because it would never happen. …

This is Weimar Republic stuff. One defining aspect of Weimar was the devolution of democracy into street battles between left and right activists. Here we have a professor within a liberal institution, Villanova University, advocating settling political disputes by mob force.
Dreher expects the same sheltering cocoon to envelope Murray as did the academy when Dreher publicized recordings with a Texas A&M University philosopher professor, Tommy Curry, who said the death of white people is a time-tested form of antiracism.
MORE: Petition launched to support embattled Villanova whistleblowers
IMAGE: Very Fake News/YouTube
Like The College Fix on Facebook / Follow us on Twitter