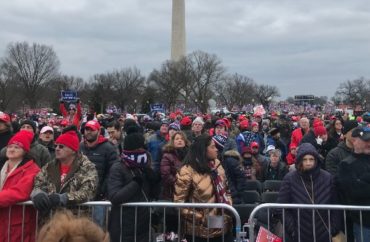 No evidence yet that he was actually part of the violence
A public school district in Virginia recently placed one of its teachers on leave after he allegedly shared with his online learning class that he was in D.C. participating in a pro-Trump rally when unrest broke out on January 6.
However, none of the video reviewed by The College Fix shows that the teacher discussed participating in any of the violence at the U.S. Capitol.
Prince William County Schools placed Benjamin Plummer, a teacher at Fred Lynn Middle School, on leave on January 15 after a student recorded a video of Plummer discussing the events of January 6. Thousands of Trump supporters attended a rally in D.C. Some later participated in violent entry into the U.S. Capitol, although details are still emerging on how many of the trespassers also attended the peaceful rally earlier in the day and several miles away.
A Twitter video posted by Fox 5 reporter Tisha Lewis provides a short clip of what Plummer said. It is unclear if Plummer made the comments unprompted or if a student had asked about what happened in D.C.
MORE A student posted this video on Twitter, reportedly showing Prince William County Schools teacher Benjamin Plummer telling students he "was there" at the US Capitol riot, defending rioters and more.@fox5dc #stayahead pic.twitter.com/HejNwqbt9T

— Tisha Lewis FOX 5 DC (@TishaLewis) January 22, 2021
"They seem to get a bad rap," Plummer tells his students, referring to Trump supporters. He said the media "blames Trump supporters" and said something was a "set-up" but it's unclear from the clip what specifically Plummer is referring to. He said "they seemed to be the ones that started it" but the video does not include him saying who "they" refers to.
At least one leftist agitator, John Earle Sullivan, has been charged with violent entry into the U.S. Capitol and entering a restricted building, according to a statement from the Department of Justice.
"I was there, that's what I witnessed, that's what I saw," Plummer said.
"If you think about the media itself, right, we listened to three months in the summer of organizations destroying cities, burning cities, looting cities," Plummer said. "What does the media say about these people? 'Oh, they're peaceful protesters.'"
At no time in the clip does Plummer actually say he was at the unrest inside the U.S. Capitol buildings versus being at the "Save America March" nor does he mention Black Lives Matter, though Lewis' report on the video paraphrases Plummer as talking about Black Lives Matter.
Lewis did not respond to an email from The Fix on Monday morning asking if her team had a longer video of Plummer. The Fox 5 article on January 19 does not include any video of Plummer's comments.
A January 22 article by Fox 5 said that "A Prince William County teacher is on leave after admitting to students he was at the riot at the United States Capitol on January 6" and includes a short clip of the video. A description under the video of the news report claims that Plummer is under investigation for "allegedly denying Capitol riot in class." The video accompanying the article said that it is "not clear" if Plummer entered the U.S. Capitol.
MORE: Student reporter on the ground at D.C. rally says media coverage is unfair
The district would not provide a copy of the video in question when asked by The Fix. Nor would it provide an update on its investigation.
"PWCS is aware of reports of social media posts connecting employee(s) to the protests and riots at the Capitol Building on January 6," Diana Gulotta, a spokesperson for the Prince William County School district, said in an email to The Fix. "These allegations will be investigated and handled according to PWCS policy and regulation; however, PWCS cannot comment on any specific personnel matter."
Gulotta would not provide contact information for Plummer. His contact information is no longer listed on a publicly available staff directory on the middle school's website.
The Fix asked the school what policies Plummer is being investigated for allegedly breaking.
The school district "recognizes that employees have a right to engage in political activity on their personal time," Gulotta said. "However, employees may not engage in political activities during worktime, on school property, or using school resources, and employees who engage in criminal activity which calls into question their fitness as a role model for students may no longer qualify for employment with PWCS." Gulotta provided the same comment to local news affiliates.
"All contracted employees are required to swear or affirm allegiance and loyalty to the Constitution of Virginia and to the Constitution of the United States" Gulotta said to The Fix.
The district's position on political activities on school property is similar to that of the Prince William County NAACP, which wants to see Plummer fired for his comments and allegedly being at the riot in D.C.
MORE: Conservative law professor retires after attempts to get him fired for activism, legal work
"Prince William NAACP does not hold an opposition to Mr. Plummer, but we are opposed to any teacher displaying the conduct that he is alleged to have displayed," Cozy Bailey, the president of the local NAACP chapter, said in an email to The Fix.
"Further, we take the position that any teacher who brings his or her political philosophies to the classroom, especially the specious lies that Mr. Plummer allegedly told his students, is not fit to be a teacher," Bailey said.
In response to a follow-up email asking if political philosophies included support for Black Lives Matter, Bailey said:
In my humble opinion, educators at the elementary and high school level have the task of presenting facts and teaching critical thinking about those facts.  While this may present educators with the challenge of refraining from injecting their own political ideologies or beliefs, it is one of many challenges they must deal with daily.  With that construct in mind, I believe it is improper for educators to bring any personal assessment or personal position they may hold to the classroom.
Bailey did not answer what policy Plummer broke and instead directed The Fix to the school district.
The local NAACP chapter has asked the school district to conduct a thorough investigation because it believes more school district employees were at the riot in D.C, according to Fox 5.
Plummer's principal, Hamish Brewer, did not respond to multiple emailed requests for comment on the status of the investigation and what policy Plummer is alleged to have broken. The Fix also asked Brewer for a copy of the video in question.
MORE: Pennsylvania school district fires teacher who participated in January 6 protest
IMAGE: Asher Notheis
Like The College Fix on Facebook / Follow us on Twitter