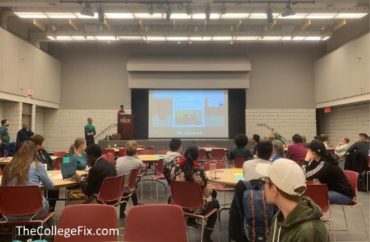 FAIRFAX, Va. — Anger. Frustration. Sadness.
All these emotions and more were expressed by students Tuesday during a 90-minute forum hosted at George Mason University that aimed to allow students to process their emotions regarding the controversy surrounding Virginia's Democrat Governor Ralph Northam.
A photo of Northam recently unearthed shows him either in blackface or a Ku Klux Klan costume, although he has denied it's him. Students at one of Virginia's largest public universities are now among those joining the chorus of those calling for his resignation, with several attendees at Tuesday's session saying it's the right thing to do.
Many of the roughly 45 students in attendance were required to go as a part of an Introduction to Conflict Analysis course, multiple students confirmed to The College Fix.
In announcing via email the event to the student body on Monday, Vice President for Compliance, Diversity and Ethics Julian Williams said the controversial image "has sparked many conversations in our community relevant to racism, marginalization, reconciliation, and leadership accountability," and added the forum aimed to create a space where the "difficult conversations" could take place on campus.
Officially called a "Community Dialogue," it began Tuesday at 11 a.m. with university representatives introducing themselves and playing a video of Governor Northan's apology.
My fellow Virginians, earlier today I released a statement apologizing for behavior in my past that falls far short of the standard you set for me when you elected me to be your governor. I believe you deserve to hear directly from me. pic.twitter.com/1rSw1oxfrX

— Ralph Northam (@GovernorVA) February 2, 2019
In discussions both among groups of students and said aloud to all attendees, the overall reaction among students was that of frustration and disappointment, and several called on the governor to resign. Others suggested this controversy should prompt more efforts for racial equality.
Students also weighed the differences between the actions of former U.S. Candidate Roy Moore, Supreme Court Nominee Brett Kavanaugh, and now Gov. Northam, in some ways linking all three incidents as similar.
In an interview Tuesday with The College Fix, Rose Pascarell, vice president for university life, spoke on behalf of the George Mason University in saying that, "We see any images of blackface or KKK robes as racist and disgusting. We see the opportunity to bring the community together – from the history of blackface to the level of accountability leaders should exhibit to questioning any university that would publish these photos."
Pascarell added that these discussions are happening around dinner tables across the state and university leaders believe they should be happening on campus as well.
Former chairman of the National Republican Congressional Committee, Thomas Davis, who now serves as the rector of the Board of Visitors and a professor of government, told The Fix "I congratulate the university on holding this forum."
The event comes on the heels of the George Mason University College Democrats strongly condemning the actions of Northam and calling for his immediate resignation.
The College Fix has reached out to Gov. Northam's office for a comment in response to the George Mason University event, but the office has not returned comment.
Editor's note: The author of this article is enrolled in Professor Davis' class. 
MORE: Christian university denies approving 'F*** Donald Trump' theme of convocation
Like The College Fix on Facebook / Follow us on Twitter