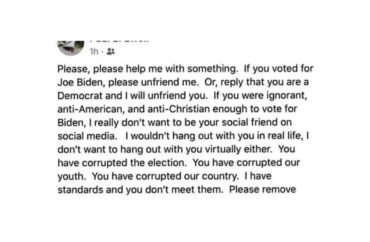 Story draws attention from President Trump
Paul Ewell, a dean at Virginia Wesleyan University, has resigned from that position and his professor job after he criticized Joe Biden supporters on his personal Facebook page.
"If you were ignorant, anti-American and anti-Christian enough to vote for Biden, I really don't want to be your social friend on social media," Ewell's post said, according to a screenshot obtained by The Virginian-Pilot. (The post has since been deleted).
Ewell also taught business and economics at the private university in Norfolk and also served as the dean of the school's global campus.
He posted on Facebook:
I wouldn't hang out with you in real life, I don't want to hang out with you virtually either. You have corrupted the election. You have corrupted our country. I have standards and you don't meet them. Please remove yourself
On November 6, university officials released a statement that pointed out Ewell's words were his personal comments (though the Facebook post did not name Ewell).
The Facebook post from the university said:
The University is aware of a recent comment made on social media by a member of the campus community. These views and opinions are expressly the individual's own. Civic engagement and religious freedom are at the core of the University's values, and we remain an inclusive and caring community that empowers meaningful relationships through listening, understanding, and communication.
Soon after, Ewell resigned as a dean.
Meanwhile, the comments gained attention, no doubt helped by a tweet from President Donald Trump, that simply stated "Progress!" and linked to a story about Ewell's social media post.
Progress! https://t.co/K0NrpChXuI

— Donald J. Trump (@realDonaldTrump) November 15, 2020
The November 6 Facebook post from the university garnered over 1,500 comments, many of them calling for Ewell's termination.
Ewell resigned as a professor about one week later.
A university news release on November 16 said that he had resigned "last week" as dean, referring to the week of November 9. It said it also "accepted his resignation" as a professor that day, referring to Monday, November 16.
"I have many Democrat friends and I want to apologize for saying that I didn't want to be friends with them and for calling them names," Ewell said in a statement to WAVY, a local television station, on November 16. "I am genuinely sorry for letting my anger get the best of me," Ewell said.
The professor finished his statement by saying that he "set a poor example in that post of what a Christian should be."
"I have no further comments than those I already made," Ewell told The College Fix via his university email. The Fix asked Ewell if anyone from the university had approached him about a suspension or termination prior to his resignation.
University officials did not answer questions from The Fix about the nature of Ewell's resignation and if university officials ever approached the professor about disciplinary measures or the comments in general.
Stephanie Smaglo, a spokesperson, referred The Fix via email to the November 16 statement and did not respond to a follow-up request for information on any disciplinary action or discussions.
MORE: Conservative law professor says he expects to be fired for pro-Trump tweets
IMAGE: Jeena Kutta/Twitter
Like The College Fix on Facebook / Follow us on Twitter