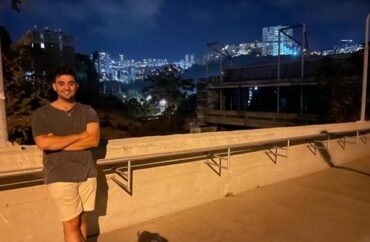 'On the evening of October 11, rocket sirens began wailing'
As a graduate student who traveled to Israel to study, I am now safe at home and able to share with you what I saw on the ground. My father, mother and I were saved by the heroic efforts of a U.S. representative and an American nonprofit after days of confusion and horror that began just one day after I had landed in the country.
I am an American student who graduated in 2021 with a bachelor's degree from Mercyhurst University in Pennsylvania. Driven by the desire to explore my Middle Eastern roots and study Israeli foreign policy, I applied for and was accepted into the University of Haifa's national security master's program to begin this fall.
Haifa is Israel's third largest city, located on the country's northwest coast near the Lebanese border. The university program is taught in English to students from around the globe.
My excitement at the adventure was tempered by my mother's fear for my safety. We compromised by agreeing that she and my father (pictured with the author, left) would join me for the beginning of my stay, so my mother could see with her own eyes how safe Israel is.
My first semester was scheduled to begin in mid-October. We touched down on Friday, October 6, at Ben Gurion International Airport and arrived in a short-term residence that afternoon, with move-in day scheduled for Monday.
I woke up the next day, Saturday, October 7, to the news that Hamas militants had stormed out of the Gaza Strip, about 100 miles south of Haifa. Hamas took over entire towns, slaughtering Israelis and taking hundreds prisoner.
Prime Minister Benjamin Netanyahu's announcement shook us all. "We are at war," he said. "Not an operation. Not rounds. But at war."
As we learned more about the attacks, I was surprised to find no panic on the faces of Israelis I saw and met. Most showed stoic dispositions and seemed to carry on with their day as best they could. It seemed as if they had simply become accustomed to war.
The locals we spoke with each had different outlooks on the "situation," as they called it. One store owner casually mentioned that his 24-year-old daughter was traveling to Gaza as a soldier, then he offered to help us get home. He said that his sister was a travel agent, but he was making no arrangements for himself.
I knew that my education would be another casualty for the time being. The situation was so dynamic, but the school tried its best to keep students at ease and informed.
I exchanged messages with my future classmates, many of whom had not yet left for Israel. Most expressed relief in just missing the outbreak, while others said they wished to experience it firsthand.
On the evening of Wednesday, October 11, rocket sirens began wailing throughout Haifa. My family huddled in between the first and second floors of our building until we heard it was safe to return to our rooms. We tried to take cues from others, though no one spoke English.
The following day, my home congressman, Republican Representative Mike Kelly, put us in touch with nonprofit Never Forgotten, which supports Americans and local allies left behind during military conflict. Kelly also connected us with Florida Republican Representative Cory Mills, then in Israel extracting Americans.
I am not permitted to reveal the full details of our escape operation, but Mills and his team acted in heroic fashion, as they did during the U.S. Armed Forces' withdrawal from Afghanistan just two years ago.
I pray that God watch over the innocent and deliver justice, and that Americans keep the people of Israel and Gaza in their prayers.
MORE: Israel fundraising efforts in full swing on college campuses
IMAGES: Alex Welz
Like The College Fix on Facebook / Follow us on Twitter