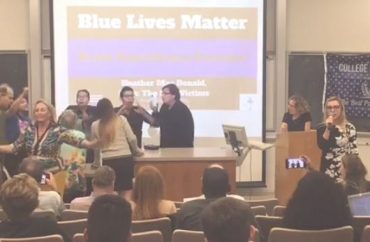 Protester: 'You have no right to speak!' 
A speech by Heather Mac Donald at UCLA on Wednesday frequently descended into chaos as Black Lives Matter protesters stormed the stage and chanted their signature phrase over and over, and also took over portions of the Q&A with angry accusations and raucous shouting, a video of the event shows.
Mac Donald, a Manhattan Institute scholar who spoke on campus at the behest of the Bruin Republicans to give a "Blue Lives Matter" talk about her 2016 book "The War on Cops," appeared to be able to largely get through the first half of her speech without much dissension.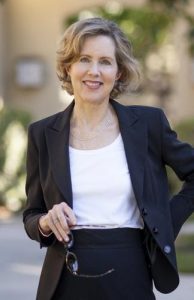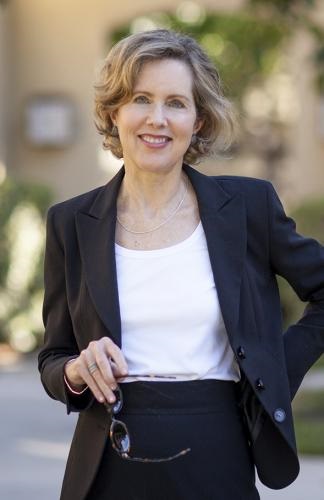 But when she opened the floor to questions, the uproar began. The chants launched, with several people taking over the floor at the front of the room and continuing to yell over and over: "Black lives — they matter here! Black lives, they matter here!"
Event organizers tried to calm the crowd and regain order. After the Black Lives Matter chant ended, several protesters remained at the front of the room, shouting and making gestures as a student organizer asked for calm. But they started up with more chants, including: "America was never great!"
After the uproar — which lasted about eight minutes — finally died down, Mac Donald (pictured) fielded questions from the audience, including from a black female who asked her to speak on whether "black victims killed by cops" mattered.
"Yes," Mac Donald replied. "And do black children that are killed by other blacks matter to you?"
At that the room erupted in gasps and angry moans and furious snaps, and the young lady who asked the original question began to yell at Mac Donald, pointing her finger and repeating the original question.
Mac Donald, known and admired for her unapologetic stance to report facts over emotion, doubled down on the infuriated young black woman.
"Of course I care, and do you know what," Mac Donald said. "There is no government agency more dedicated to the proposition that black lives matter than the police."
Again, gasps and moans filled the auditorium.
"Bullshit! Bullshit!" a young woman off camera could be heard screaming.
Mac Donald continued: "The crime drop of the last 20 years that came to a screeching halt in August 2014 has saved tens of thousands of minority lives. Because cops went to those neighborhoods and they got the dealers off the street and they got the gang-bangers off the street."
Mac Donald took more questions and at times was able to articulate her points during the Q&A, but was also often interrupted by angry audience members shouting out things such as:
"I don't trust your numbers."
"Why do white lives always need to be put above everybody else? Can we talk about black lives for one second?"
"The same system that sent police to murder black lives …"
"You have no right to speak!"
"What about white terrorism?!"
And when Mac Donald talked about how mass immigration is driving down wages, the shouting down started up again: "Say it loud! Say it clear! Immigrants are welcome here!" Over and over they repeated the chant, making hearing Mac Donald's points on the matter impossible.
Mac Donald did acknowledge several problems with policing — including that police have a history of brutality toward blacks and that some officers need to act with more respect — but she added that policing is evolving to address those concerns, noting: "But I have not heard an answer for what we do with the 4,300 people who were killed in Chicago, or were shot last year in Chicago."
Again the audience erupted in shouting, with one young man saying he was upset at her audacity to speak to the audience with such information.
But Mac Donald would not be bullied or intimidated, referencing black people who are thrilled when the cops arrive to protect them: "You say I do not speak for blacks. Maybe you do not speak for those law-abiding residents … who are living daily [under the threat of violence] who want more police officers."
As the last question was being asked, one young man in the audience shouted ominously: "Have you called the cops?" Indeed, Mac Donald was escorted off the campus.
In an email Thursday to The College Fix, Mac Donald said: "I made the argument that there is no government agency more dedicated to the proposition than the police and that policing today is data-driven and a function of crime. Police officers are in inner city high crime areas in order to save lives. But when they back off of proactive policing under the false Black Lives Matter narrative, innocent black lives are lost to the resulting rise in violent crime."
Mac Donald added that the disruptions made it difficult to answer questions thrown her way.
"For a long time, I was not given the chance to respond to either the screamers and hecklers or the people in the audience who wanted to ask questions peacefully. Even during the belated Q and A there were loud disruptions," she said, adding that according to what she overhead during parts of the disruption, protesters had not planned to storm the floor and apparently "hotter hotheads got out of control from their own perspective."
Mac Donald said in her email that it seems students did not discern all the facts she provided.
"Just to give you a sense of the attentiveness of the students, I had said quite explicitly that the history of racism in this country and the complicity of the police in maintaining slavery and Jim Crow segregation through the use of brutal and illegal force make every police shooting of a black man particularly and understandably fraught," she said. "Yet a female in the audience continued to scream at me 'why don't you talk about the history of racism and why don't you care about the loss of black life.'"
Attorney William Becker, an expert in free speech violations at publicly funded universities, recorded extensive video of the disruption, as well as escorted Mac Donald off the campus.
"Many students, including a number of black students, attended solely to disrupt the event," Becker told The College Fix via email Thursday. "A cluster of black students remained seated during the Pledge of Allegiance. Three students were well prepared to disrupt the event. I have their images on video. I also have pictures."
Mac Donald is scheduled to speak at Claremont McKenna College tonight and already plans are in the works to "shut down" the event, the Claremont Independent reports.
The Independent cites a private Facebook page organizing the protest that state: "Heather Mac Donald has been vocally against the Black Lives Matter movement and pro-police, both of which show her fascist ideologies and blatant anti-Blackness and white supremacy. Let's show CMC that having this speaker is an attack on marginalized communities both on campus and off. Together, we can hold CMC accountable and prevent Mac Donald from spewing her racist, anti-Black, capitalist, imperialist, fascist agenda."
MORE: Heather Mac Donald UNLEASHED: Scholar drops truth bombs on liberals at UCLA
Like The College Fix on Facebook / Follow us on Twitter