Campus braces for impact as renaming decision date approaches
Washington and Lee University's renaming controversy has hit a fevered pitch as its Board of Trustees is scheduled to decide the matter in June.
Factions for and against the renaming issue are doing battle and tempers are running high, as evidenced by name-calling and banners being torn down, among other actions.
There's "two highly motivated groups … on either side of the issue, each with their own vision for change and the infrastructure necessary to effectively advance their goals," said student Dennis Hull, editor-in-chief of the Washington & Lee Spectator student newspaper.
"Both sides of this debate are admirably passionate about their goals … yet those opposed to a name change have consistently advocated civility, respectful discourse, and a calm approach to the discussion," he told The College Fix.
Hull cited a column on the situation titled "A Plea for Civility," noting how several comments slam the piece as "scream[ing] privilege," "tokenism," "a garbage piece of writing," and "thoughtless centrism."
The controversy over the school's name has been ongoing for several years but ramped up in June 2020 with a petition calling for Confederate General Robert E. Lee's name to be removed from the school's moniker, with one faculty member saying its presence is an indicator of "an association and an allegiance with a dark past."
While President William Dudley urged students in a May 17 email, obtained by The College Fix, to "be kind and generous to each other, and empathetic with those whose experiences and reactions differ from our own," Hull pointed to reactions among the student body, indicating how "Those in favor of a name change … often went on the offensive against advocates of civility – even those who weren't defending a position on the name."
Hull described incidents in which both sides of the controversy had materials damaged with dueling "retain the name" and "change the name" banners.
"The banner theft indicates to me that the controversy over our name has put our closely knit community under unusual strain," he said. "Not only was the Retain the Name banner taken twice, but a 'Change the Name' banner was also reportedly removed a total of four times."
The board's decision will reportedly come in June, and Hull said he hopes for a peaceful resolution: "The conflict and confrontation that dominates our discourse today is truly remarkable for a student body with such an exceptional sense of community and mutual trust."
Washington and Lee was founded in Virginia in 1749. One of America's oldest remaining educational institutions, it is the birthplace of prestigious honor society Omicron Delta Kappa and its alumni have gone on to serve as everything from Supreme Court justices to renowned voice actors.
The university, which remained open during the Civil War, asked Lee to take the reins in 1865 with the hope that "his reputation as the leader of the Confederate army could help attract students and funding from both the north and the south, thereby allowing the school to recover from its perilous situation," the namesake's page says. The trustees "believed that his dedication to principle and duty would inspire students and faculty."
In 2019, a student petition specified that it wanted to literally erase the portraits of Washington and Lee on diplomas.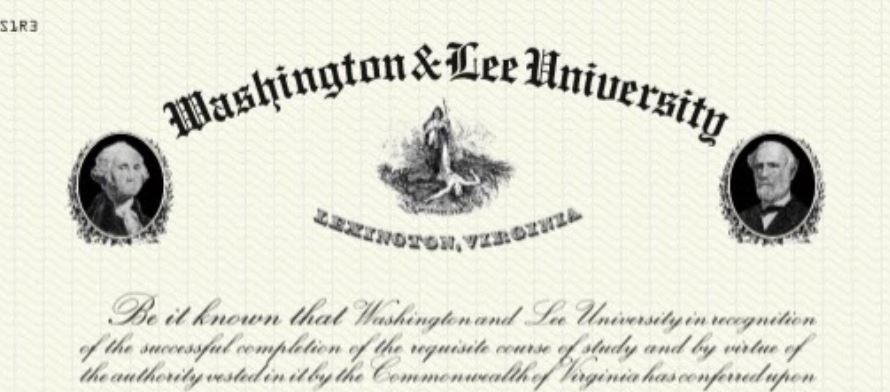 On July 4, 2020, a Washington Post op-ed written by Brandon Hasbrouck, an assistant professor at Washington and Lee University School of Law, called for the renaming of the school. It was headlined: "Both namesakes of Washington and Lee University perpetrated racial terror. The school should be renamed."
"Some are shocked by the suggestion that Washington's name is offensive. Yes, Washington was the country's first president after leading the Continental Army in the Revolutionary War," Hasbrouck wrote. "But Washington enslaved more than 300 black people. He ordered one whipped for walking on his lawn."
"…His dentures may have included teeth pulled from his slaves. These are not actions of a man who should be celebrated."
At the same time as the op-ed, a faculty vote came back with the results showing nearly two-thirds of Washington and Lee University faculty want to remove Confederate General Robert E. Lee from the school's name.
Earlier this year, a student walkout took place in protest of Lee's name specifically. On the opposing side, parents penned an open letter to the Board of Trustees urging that the name be retained.
"We realize that many institutions are feeling enormous pressure to sanitize their histories, but they do so at the peril of erasing what makes their character unique. Don't let this happen to Washington and Lee," stated the letter, signed by "Concerned Parents of Washington and Lee University."
"Stop the deleterious name change movement now, and don't allow it to gain further traction as other universities and institutions might look to your decision as a model," the letter added. "It is notable that other prestigious schools like Yale and Brown are not seeking a name change because they realize that the consequences of a name change would be severe and injurious to their schools."
More recently, another student publication published an open letter to incoming freshmen, claiming that the school "traumatized us [current students] and left us withering in fear of Confederate sympathizers as we walk across campus."
Washington and Lee media affairs would not comment to The College Fix about the controversy.
MORE: Washington and Lee U. students stage walkout to demand school name change
IMAGE: YouTube screenshot
Like The College Fix on Facebook / Follow us on Twitter