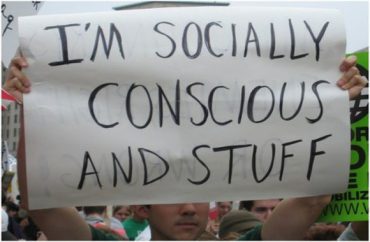 Students at the small, private Washington College on Maryland's Chester River took to the streets earlier this month to protest racism … in a general sense.
According to The Elm, the march was meant "to inspire the community to embrace everyone in the learning community, celebrate differences, and declare the […] campus as a no hate zone."
Student Government Association Secretary of Diversity and Culture Felicia Attor and Professor Elena Deanda-Camacho of the school's Diversity Committee organized the event, with help from the Black Student Union and Washington College Democrats.
Attor said the march showed support to those who "encounter microaggressions and biases on a daily basis," while Deanda-Camacho noted (unsurprisingly) the idea for the protest sprung from the Diversity Committee to address "recent tensions both on and off campus."
Though the article doesn't mention any specific incidents, a search of The Elm archives reveals two recent examples: On November 22 someone in pickup truck yelled racial slurs at a group of students, and a December 5 article discusses a "racist" painting hanging inside the college's Bunting Hall.
There's also the matter of the school canceling a student-directed play because it "could potentially upset some members of the campus community." The production featured a satirical portrayal of the Ku Klux Klan.
Attor claimed her "most" of her peers "do not advocate" for their fellow students because they don't have to deal with racism and microaggressions. She suggested student orientations should include training on how to be an "active-bystander to racial incidents."
After gathering in the Martha Washington Square, participants marched to Louis L. Goldstein Hall, crossed to Bunting Hall, then continued to the statue of George Washington on the Campus Green, chanting along the way.

"I stood on one of the brick benches in Martha Washington Square and yelled with the crowd demanding change now," freshman Jonah Nicholson said. "It felt amazing to … come as one unit and to let everyone know we are here and we are not to be silenced."

The walk out drew students, faculty, and staff of all races, sexualities, and gender identities. Participants were led by students like Nicholson, some of who chanted while others played instruments.

"I was incredibly surprised, happy, and amazed at the level of support shown from students to students, and from my colleagues, both faculty and staff. It was a special moment for all of us, and hopefully we can have more moments like these, when we all come together as a community," Deanda-Camacho said.

One chant that spread through the crowd was "Who are we? Washington. What we want? No hate."

"It felt amazing to realize that we are not alone as we have each other," junior Gaviota Del Mar Hernandez Quiñones said.
The march was followed two days later by an "an open mic for equity, diversity, and inclusivity" at which students "read poetry, excerpts from books, newspaper articles, [and] their own written work."
MORE: Washington College yanks play at last minute due to KKK depiction
IMAGE: Sam Felder / Flickr.com
Like The College Fix on Facebook / Follow us on Twitter