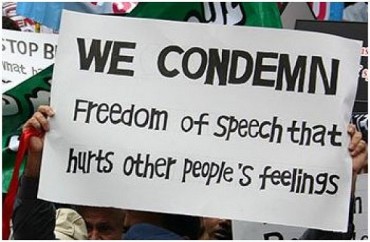 A group of Washington State University professors have decried "discourses of free speech" in an open letter to the campus community, suggesting such defenses of the First Amendment hurt "marginalized students."
The letter, signed by about two dozen scholars at the school, comes about a month and a half after a 20-foot "Trump Wall" was erected there, prompting a heated protest between students.
"We have witnessed an increase of exclusionary language based on race, citizenship status and religious affiliation in recent months; here on campus, with the erection of a wall and several other incidents on/off campus and in social media, the everyday realities of racism, xenophobia, and other forms of bigotry have been on full display," states the professors' letter, which was published in the Daily Evergreen campus newspaper. "Since the election, we have also seen increased acts of harassment and violence on and off campus nationwide."
The scholars go on to suggest more must be done to crack down on what they consider hate speech and acts, telling the campus community that the defense of freedom of speech and freedom of expression is harmful:
It is not enough [to] encourage "open-mindedness" and "sensitivity" especially when these passive efforts and rhetoric invariably lead to a culture that accepts and tolerates bigotry and harassment; a campus culture that hides behind "tolerance" and discourses of free speech undeviatingly creates a campus that is especially disempowering to marginalized students.

We must create a campus that asserts that we are anti-racist, anti-sexist, anti-xenophobia, antihomophobic, anti-Islamophobic, anti-ableism, and anti-bigotry. We must work to create mechanisms and structures that combat hate, which empower all constituencies to be active in our collective efforts to rid the campus of bigotry and systemic inequality.
Like The College Fix on Facebook / Follow us on Twitter