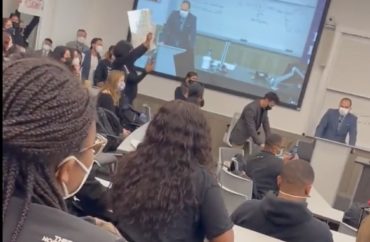 University of California law students bang on desks, use vulgarities, chant 'black lawyers matter'
Ilya Shapiro, the constitutional law scholar put on administrative leave at Georgetown University following a tweet widely decried as racist, was prevented from participating in a discussion Tuesday at UC Hastings College of the Law about the recent Supreme Court vacancy.
Protesters pounded on desks and shouted "Black lawyers matter," videos show. Some students held signs that read "Support Black Women," "I Am Not Lesser," and "Ketanji Brown Jackson," a reference to President Joe Biden's recent Supreme Court nominee.
Georgetown Law suspended Shapiro, an incoming administrator, in February following a tweet in which he criticized President Biden's pledge to nominate only black women to fill the vacancy to be left by Justice Stephen Breyer.
National Review, which reviewed a 45-minute video of the encounter, reports that the scene was chaotic. While the event began calmly, when Shapiro took center stage, activists erupted:
Shapiro's repeated attempts to speak were silenced by yells from the assembled students, who unleashed a stream of profanity and insults as he stood silently at the front of the room. ("When did you start balding? Are you sad that you're balding? I would be," one said mockingly to laughter from the audience. "You're a f***ing coward!" another yelled). Multiple student activists physically confronted Shapiro; one moved to block his access to the lectern and later began clapping in his face as students chanted, "Say it to her face, coward." Activists began drawing "black lawyers matter" on the whiteboard behind him. At one point, they commandeered the box controlling the Zoom stream of the event and flooded the live comment section.
Provost Morris Ratner attempted to calm the crowd, but that "was met with laughter and boos from the audience," National Review reported, with students telling the administrator "We can't have a bigot on campus" and "Remove him off the f***ing campus, because that's what we want."
— Anthony (@lawthony) March 2, 2022
"It's too bad that a heckler's vote prevailed here," Shapiro wrote in a statement to Fox News.
UC Hastings rebuked the protesters Wednesday morning with a letter stating that "the act of silencing a speaker is fundamentally contrary to the values of this school as an institution of higher learning," according to Fox News.
"It is contrary to the pedagogical mission of training students for a profession in which they will prevail through the power of analysis and argument," the letter continued.
Shapiro's now-deleted series of tweets read:
"Objectively best pick for Biden is Sri Srinivasan, who is solid prog & v smart. Even has identity politics benefit of being first Asian (Indian) American. But alas doesn't fit into the latest intersectionality hierarchy so we'll get lesser black woman. Thank heaven for small favors?

Because Biden said he's only consider[ing] black women for SCOTUS, his nominee will always have an asterisk attached. Fitting that the Court takes up affirmative action next term."
Shapiro quickly apologized for the statement, expressing "regret" for his "choice of words, which undermined [his] message that nobody should be discriminated against for his or her skin color."
MORE: Federal judge slams Georgetown for suspending Ilya Shapiro
IMAGE: Twitter screenshot / @lawthony
Like The College Fix on Facebook / Follow us on Twitter