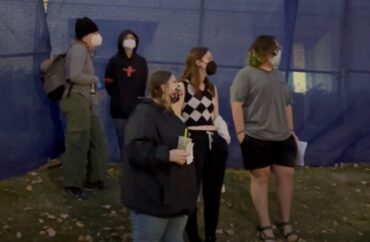 PITTSBURGH — Activists at the University of Pittsburgh protested outside a Turning Point USA event to demand "trans-inclusive healthcare and housing" among other requests. Several activists also tried to enter the event but was turned away for not following the ticketing procedures.
Trans Action Building PGH convened on campus an hour before Turning Point USA was scheduled to host Brandon Tatum, a former police officer and co-founder of the Blexit movement. "Blexit" refers to "black exit," or the idea that black Americans should leave the Democratic Party. Blexit is now part of TPUSA.
Tatum's Oct. 26 event, "Call Me American," focused on his experiences as a police officer, as well as his story on leaving the Democratic Party and becoming a conservative commentator.
Pro-trans protestors previously created protest flyers that accused Tatum of being a "bootlicker" and a "hack," as previously reported by The College Fix.
A separate social media post further accused Tatum of "belittl[ing] trans and [non-binary] people and hits them when they are down."
Protestors demanded "three fully-staffed in-person resource centers," "trans-inclusive healthcare and housing," and for Pitt to "end union busting and provide a minimum wage of $20/hour" for student workers and faculty members. The group wants a new center for individuals with disabilities, one for LGBT students, and one for racial minorities.
The Fix reached out to the Trans Action Build PGH via its social media page in request of more information about their demands but did not hear back.
Protestors dressed in all black started chanting "an injury to one, an injury to all." Other chants included, "Hey hey, ho ho, transphobes have got to go."
After listing these demands, the protestors shifted their focus to The Fix reporter present at the event. The majority of protestors knew the reporter's first and last name, as well as the restaurant he used to work at.
"Get a real job," protestor Farah Mili shouted at The Fix. Another protestor yelled, "F*cking loser."
One of the event's safety marshals also followed The Fix around on her bicycle while flashing bright lights into the camera.
The bicycle-riding protestor accused The Fix of "attempting to zoom in on people's faces for identification later."
At the last minute, Mili attempted to enter the TPUSA event with a screenshotted ticket. However, TPUSA officials required the actual email received along with photo I.D. that matched the name on the ticket. Pitt officials previously had to instruct Mili to stop interrupting a speech by former collegiate swimmer Riley Gaines, as previously reported by The Pitt News.
Upon being denied entry, a group of protestors began to yell at members of the TPUSA chapter and police officers.
"Boo, f*ck the cops. 40% of you beat your wives," Mili said. "How many of you enjoy it?"
Another protester threatened legal action against TPUSA, asking, "Do you want a ticket to court?"
Lili Orozco, TPUSA President at Pitt, told The College Fix in an in-person interview that the protestors were not allowed in the venue because they showed a screenshot of the ticket.
"Her friend had a ticket with guest passes but the ticket holder refused to get in line with the ones who wanted to enter," Orozco said.
"Doors also closed at 7pm, and they were in line after that time," she added. "We even tried to help them out after the doors closed, but the protestors refused to cooperate."
Police officers then removed the disruptive protester out of the line, where she joined the rest of her group.
Following Tatum's speech, a Q&A session was opened for attendees. The Fix asked Tatum why protestors made his event into a gender ideology issue. In response, Tatum blamed "brainwashing."
"What about me makes somebody think I hate gay people," Tatum questioned. "I'm a Christian so I don't believe it's right, but I'm not going to go protest or go into somebody's house and be like 'you better get off the back of that man.'"
"You do you," he said. "Just don't make me do you…not literally."
Tatum also called out the LGBTQ community for indoctrinating the youth of this country.
"Kids aren't thinking about this. Adults are thinking about this. Then they teach kids and now the kids are thinking about trans issues," he said.
TPUSA at Pitt's next event is James O'Keefe in November. This event was granted $25,000 in funding by the school's Student Government Board, as previously reported by The College Fix.
MORE: Pitt students host fifth pro-Hamas protest this month
IMAGE: The College Fix
Like The College Fix on Facebook / Follow us on Twitter