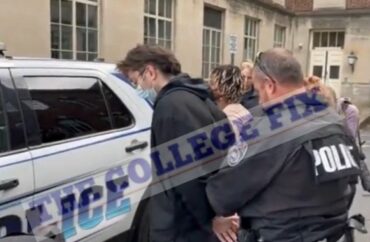 UNIVERSITY PARK, Pennsylvania – Two pro-transgender activists were handcuffed and placed in a police cruiser before women's rights activist Riley Gaines even started her speech last night at Pennsylvania State University.
October 10 was deemed "Real Women's Day" since the date in Roman numerals reads X/X, the sex chromosomes of females.
The protestors, who were filmed by The College Fix, began yelling at attendees who were waiting for Gaines to begin speaking. One of the attendees turned out to be Pennsylvania State Senator Cris Dush, who serves the district in which Penn State University resides.
"You're a f**king loser," the male protester yells at State Senator Dush.
"We are going to have free speech on this campus – this is my district," Dush said.
The male activist is then joined by a masked female colleague who are both caught on video wrecking an event table set up by Penn State's Young Americans for Freedom chapter.
Police officers were immediately called to the scene. The two protesters were detained and relocated to police cars, in which they were both handcuffed and placed inside separate vehicles, according to footage taken by The College Fix. Asked by someone in the crowd what the students were being arrested for, the officer said "disorderly conduct."
Police officers told The Fix that no comment on the arrests could be made since paperwork had yet to be filed.
Despite controversy before the event, Gaines was still able to speak, arriving shortly after the two protesters were arrested.
However, further controversy came after a video of Penn State's President Neeli Bendapudi from Sep. 11 began circulating. The video discussed the potential for "controversial" speakers coming to campus.
"It's as if she's explaining a nap to a kindergartener," Gaines told The Fix.
"The only thing on [the protestors] side is emotionally driven. It's feeling over facts. Again, there is no science, logic, or reason as to what their side is advocating for," she said later.
No way President of Penn State makes a whole video explaining why public institutions are legally obligated to let "bigots" apparently like me on campus to speak then proceeds to CANCEL my speech tomorrow for real women's day (X/X)😭😂

Have it your way. See ya tomorrow with a… pic.twitter.com/vHTPbK6hBZ

— Riley Gaines (@Riley_Gaines_) October 9, 2023
However, Wyatt DeBois, a member of the school's media relations team, told The College Fix via email that the video in reference "was not made to condemn this event, but rather to explain why the University's adherence to the First Amendment is critical for ensuring free speech for everyone."
"The president was not referring to anyone in particular, rather, she was referencing the trend of speakers who generate controversy frequently visiting college campuses," DeBois said.
Bendapudi released a similar video in July.
The remaining group of protesters shouted down Gaines throughout her entire speech about the importance of protecting real women.
"Trans rights matter," protesters chanted throughout the entire event. "Jesus loves you," attendees can be heard saying towards the protesters.
At the end of Gaines' speech, both groups dispersed. Riley went on to speak directly to members of Penn State's Turning Point USA and YAF chapters later on in the day.
A handful of attendees, including State Senator Dush, shared their inputs about the way things transpired at PSU.
"The people who were here yelling and trying to shout things down had no interest in [civil discourse]. It's all about feelings and emotions and not about having a real intellectual discourse about the issues," Dush told The Fix during an in-person interview.
"We hold the purse strings for an awful lot of universities in Pennsylvania," Dush told The Fix, when asked about legislative action to protect campus free speech. "We can make them sit up and take notice that you guys have a responsibility [to uphold free speech on campus]."
Jack Kentner, president of PSU's YAF chapter, told The Fix that the protesters "got to a point where they were getting physical with people."
"They knocked over our table. They were shoving people when Riley Gaines was speaking," Kentner said. "It would have been better if they weren't there."
Citing Gaines' history of receiving backlash during campus appearances, including getting assaulted at San Francisco State University last semester, Kentner also shared that he was pleased with the police presence throughout the event.
"We want answers"

PA state reps discuss how they will hold schools like PSU accountable for the events that unfolded tonight

Reporting LIVE at PSU with @CollegeFix: pic.twitter.com/Xonb9qNaZ0

— LOGAN DUBIL 🇺🇸 (@thelogandubil) October 10, 2023
"If they have a Y, they are a guy," he said.
Similarly, TPUSA at PSU President Eamon Foley told The Fix that the event was a success despite the obstacles thrown their way.
"Make sure you are granting all students a right to free speech," Foley responded when asked if he had a message to PSU. "As for the protesters, I disagree with them. I think they are completely on the wrong side of things, but this is a public university. It is supposed to be a marketplace of ideas where the best ideas win."
"I wish they would be a little more polite about it, obviously, but rights are rights."
MORE: See all of Logan's videos from last night
IMAGE: Logan Dubil for The College Fix
Like The College Fix on Facebook / Follow us on Twitter