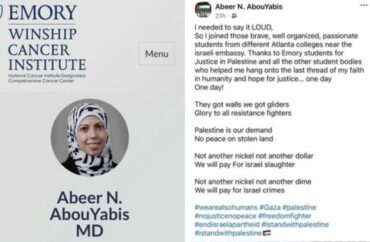 Oncologist who said 'glory to all resistance fighters' is no longer at Emory
Emory University's Winship Cancer Institute no longer employs a doctor who praised Hamas on social media.
The doctor's comments included a poem that included praise for the terrorists who flew hang gliders into a music festival and killed civilians on Oct 7.
"Dr. Abeer AbouYabis is no longer employed or practicing at Emory, including the Winship Cancer Institute," spokeswoman Laura Diamond told The Emory Wheel late last week. The private Atlanta university placed AbouYabis on leave in mid-October.
AbouYabis wrote on her Facebook after attending a rally with Emory Students for Justice in Palestine:
They got walls we got gliders/Glory to all resistance fighters

Palestine is our demand/No peace on stolen land

Not another nickel not another dollar/We will pay For israel slaughter

Not another nickel not another dime/We will pay for israel crimes.
Emory's medical school leadership previously released a statement in October when the social media post began to garner attention.
"We expect all members of the Emory community to treat each other with dignity and respect at all times, recognizing that each of us comes from different backgrounds and holds different beliefs," leadership wrote, as reported by the campus newspaper. "There is no place in our community for language and behavior based in hatred, that incites violence and is counter to the values that unite us as health care professionals and educators."
The Foundation for Individual Rights and Expression criticized the firing of Dr. AbouYabis.
"Punishing faculty members for their extramural expression about geopolitical conflicts chills faculty expression, even when that expression is offensive to others," Program Officer Graham Piro stated today in an email to The College Fix.
"Absent some substantive indication that AbouYabis's posts crossed the line into harassment or another form of unprotected speech, or caused some substantial workplace disruption, we urge Emory to restore AbouYabis's good standing at the university, as the university's strong free expression promises protect her political commentary."
FIRE previously wrote to Emory in October.
"Emory's commitments to its constituents' expressive rights do not shield AbouYabis from every consequence of her expression—including criticism by students, faculty, or the broader community," FIRE wrote. "But Emory chills faculty extramural speech when it publicly announces that it is suspending a faculty member for doing nothing more than expressing their views passionately."
MORE: Leftists tear down YAF Berlin Wall display at Michigan Tech
IMAGES: Emory Winship Cancer Institute; Abeer AbouYabis/Facebook
Like The College Fix on Facebook / Follow us on Twitter