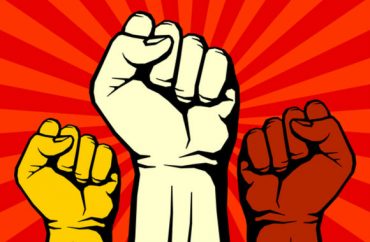 'Resist Oppression' teach-in tackles issues of race, climate, gender and more
Scholars with the University of Massachusetts Boston recently held a weeklong teach-in that featured some 26 workshops and events dedicated to promoting social justice causes.
The teach-in was titled "Solidarity in Action: Resisting Systemic Oppression." The lectures, held last week at the public university, included topics such as "Disrupting White Supremacy," "Palestine Liberation and BDS," "Climate Justice" and "Sex and Gender: Deconstructing Categories."
"Offering information and analysis to understand the rise of White supremacy and other systemic oppressions, and strategies, skills, and models of advocacy to resist oppression in the current time and climate," organizers stated online.
Those leading the workshops were mostly professors. The workshops took place in classrooms, however "My Union will be Intersectional or it will be Bullshit" took place in a faculty lounge.
And an exhibit at the University Hall Gallery included as part of the teach in featured incarcerated artists' work showcasing "how can people maintain their humanity within a punitive system designed to dehumanize them."
Over at the alumni lounge, a "STEMinist Studio" event aimed to "envision what an inclusive, decolonized science might look like," organizers stated online.
The kickoff lecture was titled "Illicit Bodies: The Intersection of Anti-Abortion and Anti-Immigrant Policies." It was led by Professor Shoshanna Ehrlich, a Women's, Gender, and Sexuality Studies scholar.
The workshop focused on "the Trump administration's concurrent attacks on immigrants and abortion rights by considering the recent case of Garza v. Hargan, where the federal government argued that authorizing the release of a young undocumented teen migrant from the federal detention center where she was being held would (in the words of Justice Kavanaugh) create a 'new right' of 'immediate abortion on demand,' casting her body as doubly illicit."
"There can't be a barrier for these people to receive abortions," Ehrlich said.
Citing the 14th Amendment, the professor said undocumented immigrants should be handed both citizenship and access to abortion with the funding ambiguous. Simultaneously, she frequently critiqued President Trump's policies for limited abortion access to illegal immigrants and minorities.
Meanwhile, the "Sex and Gender: Deconstructing Categories" workshop aimed at educating attendees in a post-modern understanding of gender in terms of fluidity and personal choice.
The full program of events, linked on the school website, also included various "resources for resisting hatred and oppression," such as blog posts ranging from climate justice to coping with people who don't agree with their beliefs.
UMass held a similar progressive bootcamp last year titled "Not My Normal" and plans to host another this coming spring titled "Wake Up! Rise Up" on topics ranging from the evils of colonialism to how to support illegal immigrants and prevent them from being deported.
William Nardi contributed to this report.
IMAGE: MicroOne / Shutterstock
Like The College Fix on Facebook / Follow us on Twitter