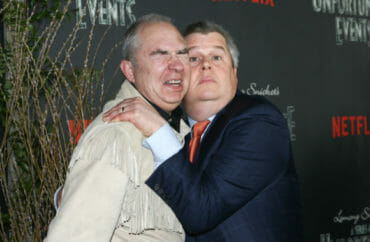 Is it sexual harassment to treat male and female colleagues the same?
Daniel Handler, better known to his fans as Lemony Snicket, is not everyone's cup of tea. Apparently his sense of humor has scalded an elite private university.
Wesleyan University President Michael Roth told the community in an email Thursday that its alumnus Handler "has chosen to withdraw" as the university's commencement speaker in May. He'll be replaced by Clarence Thomas's accuser Anita Hill, who was already scheduled to receive an honorary degree but not give the address, according to Inside Higher Ed.
Roth suggested Wesleyan didn't protest this allegedly voluntary withdrawal: "We've agreed that the focus of the event should be on the Class of 2018, their families and the celebration of graduation."
Asked for a hard copy of any communication from Handler saying he would withdraw, a university spokesperson sent The College Fix Roth's email with the "chosen to withdraw" claim. Asked again for a hard copy documenting that Handler himself offered to withdraw, the spokesperson did not respond.
MORE: Leftists make 7 times more campus disinvitations than conservatives
A message from @mroth78: Daniel Handler has chosen to withdraw as Commencement speaker this May. The focus of the event should be on Class of 2018, their families & the celebration of graduation. I'm pleased to share that Anita Hill has graciously agreed to deliver the address.

— Wesleyan University (@wesleyan_u) March 1, 2018
The focus since Wesleyan announced Handler as commencement speaker in mid-February has been allegations of sexually inappropriate comments by Handler, author of the Lemony Snicket children's books.
A week before the announcement, young-adult and children's book author Gwenda Bond called on "male authors and illustrators and publishing professionals" to "Stand Against Harassment in the YA/Kidlit Community."
After Handler commented that he supported the effort, another author responded by accusing him of making her "uncomfortable" at a children's book festival by asking if she was a "a virgin, too" and later joking about how such festivals "always turn into orgies!" Kate Messer continued:
I understand that being edgy in this way has long been a part of your public persona. But you are talented and funny in so many other ways. You can still be big without making others feel small, and I'd love to know that your commitment includes a pledge to leave behind this sort of humor.
Others soon piled on by publicly accusing Handler of inappropriate sexual and other remarks, including an infamous "watermelon joke" Handler made at an event honoring a black author, for which he long ago apologized.
MORE: Wesleyan president takes credit for 'Hamilton'
Handler finally responded to the accusatory comments on Bond's Feb. 9 post on Feb. 20, which he blamed on his "lack of an internet life":
It has never been my wish to insult any of my professional colleagues. I sincerely, if tardily, apologize.

My whole life my sense of humor has not been for everyone, and my books continue to be regarded, by a segment of the population, as inappropriate.
As a formerly "struggling author" he decided that "treating all of my colleagues the same was the best way to dispel the unease that can come from a competitive or self-conscious environment."
Handler also identified himself as "a survivor of sexual violence" to show he understands that "words or behaviors that are harmless or even liberating to some people can be upsetting to others."
He declined to discuss "incidents in which my memories, and the memories of others who were with me, sometimes differ" in the comments section of a blog, but added "I believe the people who are talking. I am listening and willing to listen; I am learning and willing to learn."
Pacific Standard published a purported expose of Handler the next day, pointing to multiple allegations that Handler made a "pattern of sexually humiliating comments at public events."
It used scare quotes to describe his bawdy humor in mixed company as "joking," and said his "consistent conduct … has had a harmful impact on multiple female children's writers and children's librarians."
MORE: Wesleyan Title IX officer conflates rape with feeling unwelcome
The Wesleyan Argus went on to opine – in a news article – that the watermelon joke was "not Handler's only instance of harmful and inappropriate conduct."
It also failed to identify Handler as a survivor of sexual violence, even though it quoted from his comment on Bond's post where he identified as a victim, and the thrust of the Argus story is allegations that he harmed others with sexually inappropriate remarks.
Students put up posters demanding Handler's disinvitation on Monday, saying that letting him speak at commencement was "an insult to survivors, women, people of color, and Dr. [Anita] Hill," according to the Argus.
One organizer said the Wesleyan administration had shown "serial behavior" of treating females and students of color "as an irritation and a sideshow" before Handler's invitation.
For a timeline on how reports of harassment last month led to Handler '92 stepping down, @hannahereale reporting:https://t.co/Q1ZHoaW2ts

— The Wesleyan Argus (@wesleyanargus) March 2, 2018
President Roth told the Argus the school was "unaware of the most recent allegations" against Handler when it invited him to speak at commencement, but said he was aware of the watermelon joke:
"[Handler] visited the campus after that and spoke to a full house in the chapel about it. I did think that it would've been interesting to have someone who actually made a mistake, recognized it, and owned it talking alongside Anita Hill, who didn't have that response to the allegations she made about Justice Clarence Thomas, who still sits on the Supreme Court, as you know…. And maybe that was a mistake.
Roth said the difference between Handler's apology for the watermelon joke and the new allegations against him are that his accusers felt "humiliated" by his sexual remarks.
Handler has not made any known public statement on withdrawing as commencement speaker, and he declined to comment to the Argus, with a spokesperson simply providing a link to his Feb. 20 comment on Bond's post.
Read the reports by Inside Higher Ed, Pacific Standard and the Argus, as well as Bond's post and Handler's comment.
MORE: Wesleyan offers to tell students how to dress on Halloween
IMAGE: Debby Wong/Shutterstock
Like The College Fix on Facebook / Follow us on Twitter