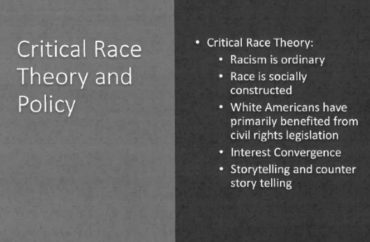 Two lawsuits were filed against the Department of Defense for failing to respond to requests
Cadets at the United States Military Academy at West Point were instructed through several training sessions about critical race theory, according to documents and slides obtained through public records requests.
Conservative legal group Judicial Watch obtained the information through Freedom of Information Act lawsuits against the Department of Defense. Judicial Watch filed the lawsuits in response to failed efforts to obtain the documents.
Judicial Watch stated it received over 600 pages of documents.
The College Fix emailed the media relations team for West Point on Thursday but did not receive a response. The Fix asked for information on how often cadets are instructed in CRT and what the quantifiable benefits have been so far.
One slide (pictured) is titled "Critical Race Theory and Policy," and instructed cadets that "Racism is ordinary," " Race is socially constructed" and "White Americans have primarily benefited from civil rights legislation."
One of the slides titled "Whiteness" taught cadets that "[w]hite people and people of color live racially different structured lives" and whiteness should be taken for granted because it has "privilege."
Another presentation titled "Education and Work Inequality," included a slide titled "'Race and the Invisible Hand' How White Networks Exclude Black Men from Blue-Collar Jobs."
"Do you think Affirmative Action creates [an] environment for 'reverse discrimination?' Use CRT to support your answer," another slide stated.
"Our military is under attack – from within," Judicial Watch president Tom Fitton stated in the news release. "These documents show racist, anti-American CRT propaganda is being used to try to radicalize our rising generation of Army leadership at West Point."
The Fix filed a FOIA request of its own in June 2021, requesting access to and copies of emails from West Point Superintendent Darryl Williams containing the phrases "critical race," "critical race theory," "systemic racism," and "CRT" from January 1, 2021 to June 21, 2021.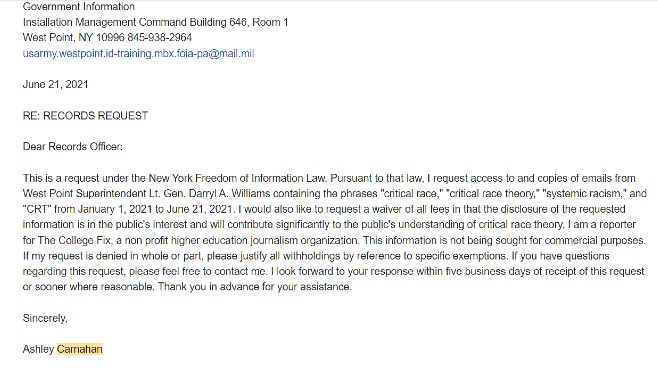 West Point denied that request for information.
Interest in West Point's use of CRT training came after Representative Mike Waltz pressed Secretary of Defense Lloyd Austin during a House Armed Services Committee on June 23, 2021 on the military academy's possible instruction of cadets on CRT.
Waltz mentioned a lecture he was made aware of titled "Understanding Whiteness and White Rage" and "White Power at West Point."
General Mark Milley, the chair of the Joint Chiefs of Staff, also said he wanted to understand "white rage."
"I do think it's important, actually, for those of us in uniform to be open-minded and be widely read," Milley said at the same hearing. "And the United States Military Academy is a university. And it is important that we train and we understand – and I want to understand white rage."
MORE: West Point lets football players who cheated on exams to play in bowl game
IMAGES: United States Military Academy/Judicial Watch; The College Fix
Like The College Fix on Facebook / Follow us on Twitter