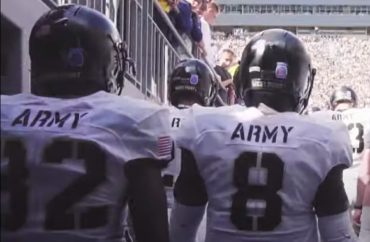 UPDATED
Suspends honor code
The United States Military Academy, commonly known as West Point, cited a number of athletes, including football players, for cheating on a spring 2020 calculus exam.
But university officials suspended its own rules to allow football players to play in games this season, including a bowl game.
The public military university has a rule against violators of its honor code from representing the university.
"We delayed it [the rule] until final adjudication," Christopher Ophardt, West Point spokesperson, told USA Today. The newspaper reported that some athletes were found in violation of the honor code on November 30, a month before the New Year's Eve bowl game against Liberty University. The university decided in October to suspend the rule.
A December 30 letter addressed to alumni from Darryl Williams, the superintendent of West Point, explained the scandal. Williams made the decision to allow the football players to take the field, according to USA Today.
The letter, obtained by The College Fix, said:
Last Spring, while in remote learning environments away from the United States Military  Academy, 73 Cadets were accused of violating the Cadet Honor Code by cheating on a calculus final. Of these 73 Cadets, 72 are from the class of '23 and one is from the class of '22. All but one of these young men and women were in the tenth month of their 47-month leader development journey. 
The Fix reached out to Ophardt, asking for the number of athletes who have been under investigation for an academic violation and how many have received disciplinary action in response. He did not respond to two emailed requests for comment in the past week.
MORE: Student-athletes boycott practices after athletic director says all lives matter
The Fix spoke to several cadets about the cheating scandal.
"West Point teaches honor as a process," a West Point cadet, said in a phone interview. "We expect that freshmen haven't fully adopted all of our values, which is why they receive lesser punishments than upperclassmen. If this scandal happened with upper-class cadets, their punishments would have been more severe." The Fix has removed the name of the cadet because the cadet later expressed fears of reprisal for her comments.
Another cadet, who asked to remain anonymous due to the nature of the subject, shared her thoughts.
"When I first found out about the memo being suspended, I thought it was highly coincidental that the timing coincided with this ongoing honor investigation," the cadet told The Fix on a phone interview. "It seems suspicious that allowances were obviously made to accommodate the football team — a noticeable trend I've seen since I've been here [at the Academy]."
It is not the first time that athletes have received special privileges. In 2016, defensive back Brandon Jackson became intoxicated after a game against Rice University.
The Daily Beast reported that Jackson was not of a legal age to drink. Regardless, he and his friends drank, "in full view of at least one current officer and in violation of West Point's strict code of ethics," according to an Army investigation report that the publication reviewed.
Jackson attempted to drive his car while intoxicated, despite the rules against underclassmen having personal vehicles on campus. Jackson subsequently died after hitting a guardrail with his vehicle.
In the Army investigation report, one investigator wrote, "While his death was 100% the result of his own open, deliberate, and knowing malfeasance, the institutional-cultural lens is important because Cadet Jackson's actions were ambivalently treated as ambiguous offenses by USMA [United States Military Academy] personnel who witnessed his misconduct."
"It's not about honor. It's about whatever it takes to win," an unnamed West Point official told the Daily Beast in 2017.
MORE: Football coach apologizes for 'offensive' social media post
Editor's note: A cadet originally quoted in the article asked for her name to be removed and said she did not understand her name would be used. The article has been updated.
IMAGE: West Point/YouTube
Like The College Fix on Facebook / Follow us on Twitter